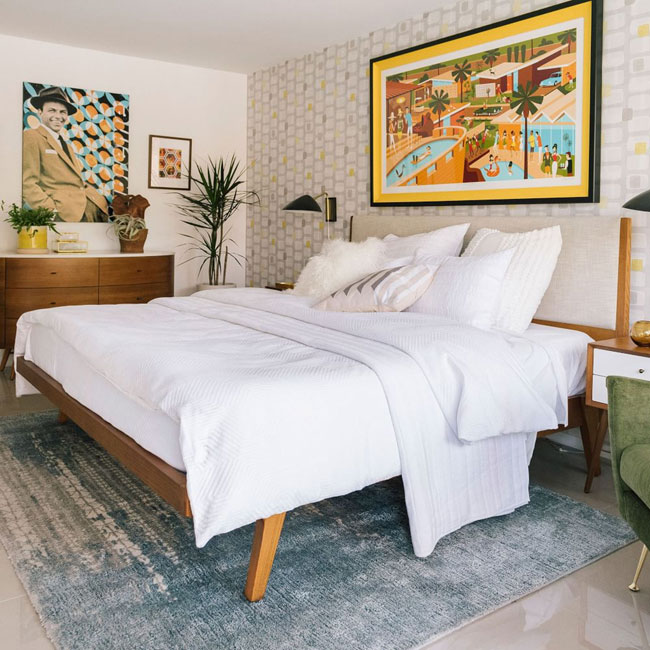 Note all articles are independently researched and written by myself. However, if you buy via one of the links it may be an affiliate and I may earn a small commission.
Well, I have done sofa beds in the past. So it makes sense to compile 40 of the best midcentury modern beds currently available for sale.
Not too long ago and especially when I was starting out writing this blog, it was pretty much impossible to buy any kind of retro bed, not least a midcentury modern bed. It was vintage or nothing.
But over time the high street has responded to the challenge, as well as smaller makers. This was set to be a top 20, but I really couldn't keep the numbers down. Eventually, I limited myself to 40.
Within that, I've tried to mix things up a little in terms of style, also adding in some kids' beds and a few from US sellers, as I know there are a number of US readers out there. With that in mind, I hope there's something for you somewhere within the list.
There isn't any order to this. Just 40 midcentury modern bed designs that I hope you like. So let's get started with that rundown…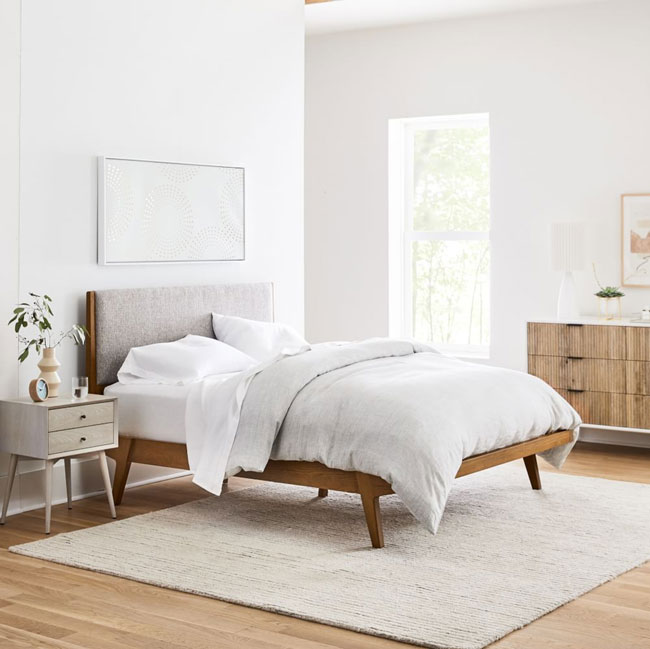 1. The Modern Bed at West Elm
This isn't the cheapest point to start, but it's a great design taking inspiration from the mid-20th century.
A touch id Scandinavian inspiration with this one, which mixes up a simple upholstered headboard with styled angled legs and a 'warm' pecan finish. Solid wood supports slats, naturally.
Different sizes, with prices starting at £1,499.
Find out more at the West Elm website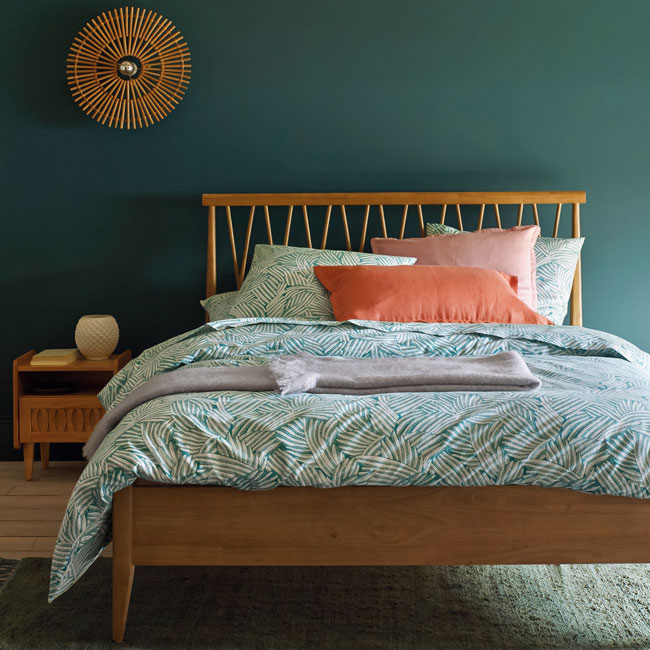 2. Quilda bed at La Redoute
This one isn't unlike another I'll be featuring further down the listing. Just a little cheaper.
You might recall the name Quilda because it is a full midcentury modern furniture range. Do check that out if you want to furnish your whole home. It's worth a look.
Or have a look at the bed, which is in oak and with that 'criss-cross' headboard. Less than half the price of the last one coming in at £431.
Find out more at the La Redoute website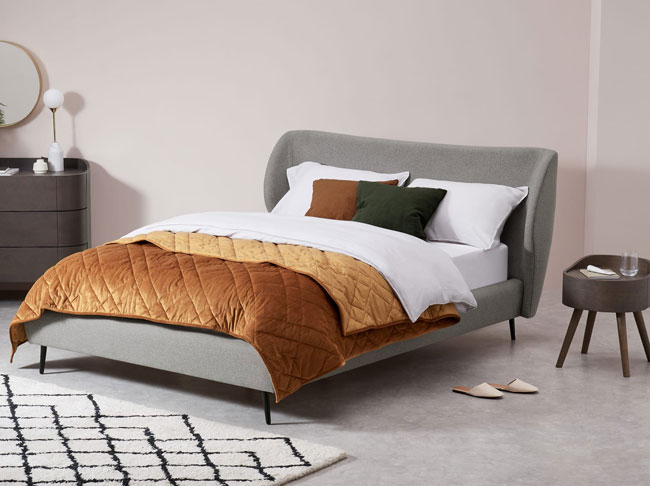 3. Topeka retro bed at Made
There are numerous midcentury modern bed designs at Made and a few have made the cut in this rundown. Including the Topeka here.
Available in two colours and two sizes, it has that oversized, curved headboard, a cloth cladding for headboard and frame and the skinny metal tapered legs.
Grab one from £385. Yes, it's in the sale.
Find out more at the Made website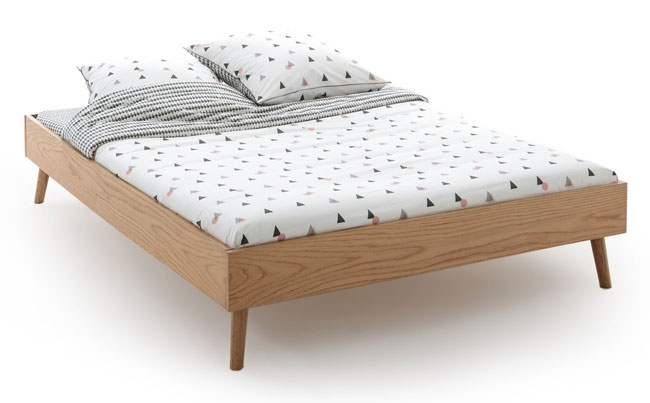 4. Jimi oak bed frame at La Redoute
Looking for something more minimal? This could be the design you are after.
Again, another that's part of a larger range (do check out the Jimi coffee tables at the retailer as they are pretty impressive), this design offers an oak frame, a slatted base and tapered legs. The rest is up to you with your choice of bedroom decor.
Two sizes are priced from £239. Another in the sale.
Find out more at the La Redoute website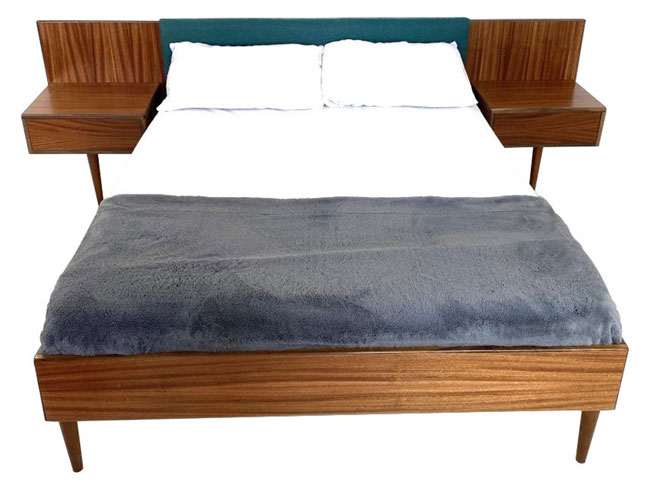 5. The Mojo Reserve teak bed
The first from an independent maker and seller and one with a touch of the 1970s about it.
Of course, it has all the midcentury modern details you would want, including those tapered legs and that lovely wood grain. But this made to order bed has a little bit more.
That 'more' is the built-in side table, which is something you probably haven't seen for some decades. As it's handmade you can tweak the design too, which is nice if you need a specific size. As for the price, you are looking at £1,600.
Find out more at The Mojo Reserve Etsy website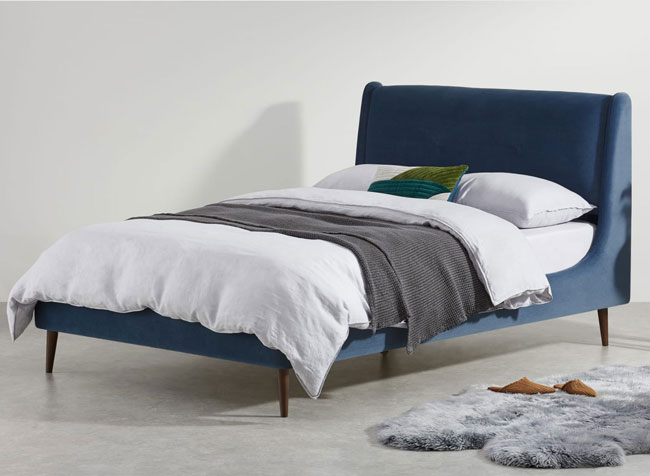 6. Raffety bed at Made
Another of those retro offerings from Made, this one in three colours and two sizes.
The double is actually in the sale now, although the king-size remains at full price. Still reasonably priced though.
Anyway, a velvet finish, plush buttoned headboard and tapered legs, all combine to create a feature piece for your bedroom. Priced from £405 in the sale.
Find out more at the Made website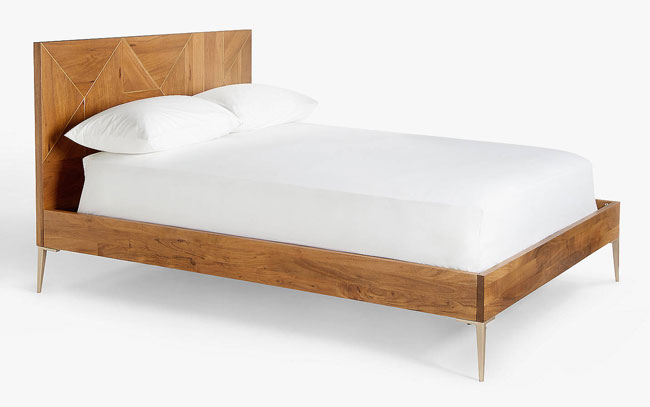 7. John Lewis x Swoon Mendel bed
A collaboration between a design label and a high-end retailer. The end result is pretty impressive.
It's very much a Swoon trademark, using high-quality acacia wood and veneers and a geometric design on the headboard. Other details include those sleek, tapered legs and a minimalist shape. A very strong look.
Exclusive to John Lewis, it sells for £799.
Find out more at the John Lewis website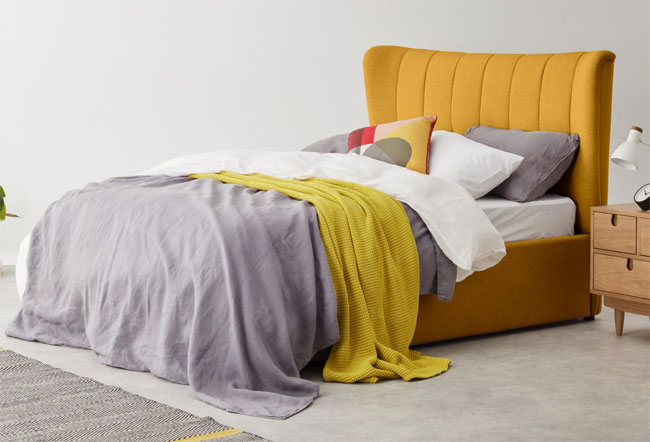 8. Charley bed at Made
Looking for style and storage? This might be the bed for you.
Actually, I should say 'beds' because there are three colour options if you want something a little more subdued than the mustard finish pictured here. All are available with buttoned detailing and the subtly curved headboard and have plenty of storage space underneath to keep things nice and tidy.
If you don't want the storage, a double is available for just £349 with tapered legs. But if you do, the king size is £599.
Find out more at the Made website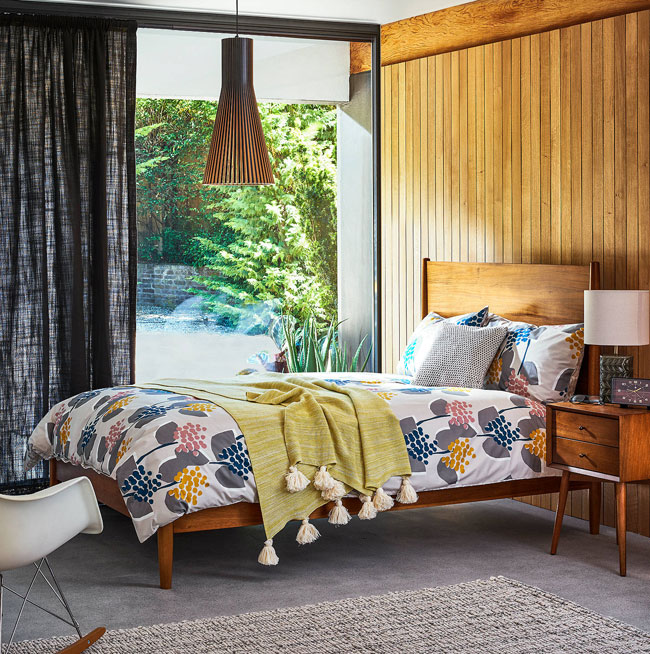 9. Mid Century bed at West Elm
The name says it all really, with a bed design available in two different configurations.
The standard version is a lovely thing. Available in double or king-size options, it is classic MCM, made from solid eucalyptus wood and acacia wood veneers and with a natural finish. Love the headboard and the subtly tapered legs.
That one sells from £831. And do check out the rest of the Mid Century range there too.
Find out more at the John Lewis website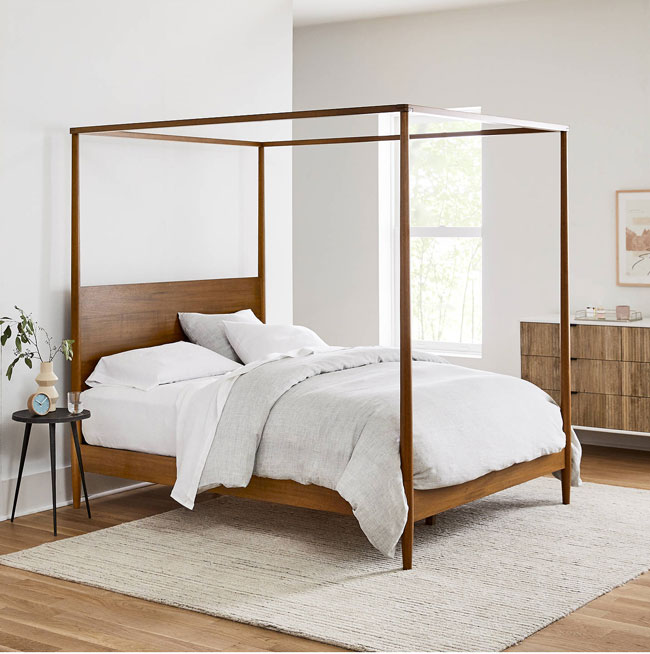 Oh, that's not quite all with this one. There is also the rather wonderful Canopy option for this ned too. Similar design, but with that very cool frame for a four-poster effect. Of course, it costs more at £999, but it might be worth it.
Find out more at the John Lewis website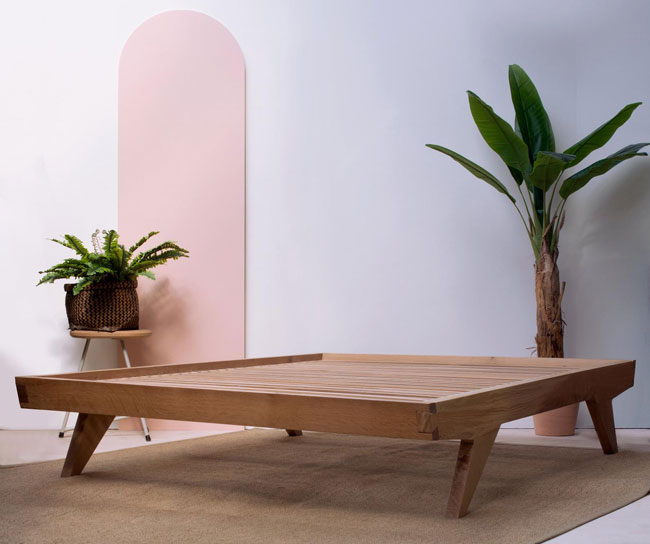 10. Handmade Haukotus oak bed by Konk Furniture
Something a little more individual. Of course, it is, the bed is made just for you.
A minimalist affair with a strong midcentury modern look, it features an oversized dovetail at each corner, individually set oak slats, a sturdy frame and those wonderful legs. It will also be assembled for you and made to different size requirements as well as different finishes.
£2,239 isn't cheap, but you are getting a one-off.
Find out more at the Konk Furniture Etsy website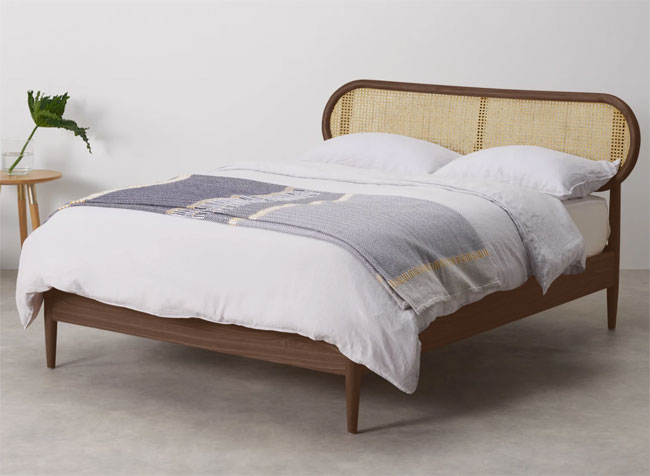 11. Reema retro rattan bed at Made
The rattan trend is gathering pace and if you have fallen for it, have a look at this bed.
Take your pick from three colour finishes and two sizes. But the design is much the same, offering a wooden bed with tapered legs and the statement rattan-style headboard.
prices start at £825. Note you can get a larger, more arched headboard too plus wardrobes to match.
Find out more at the Made website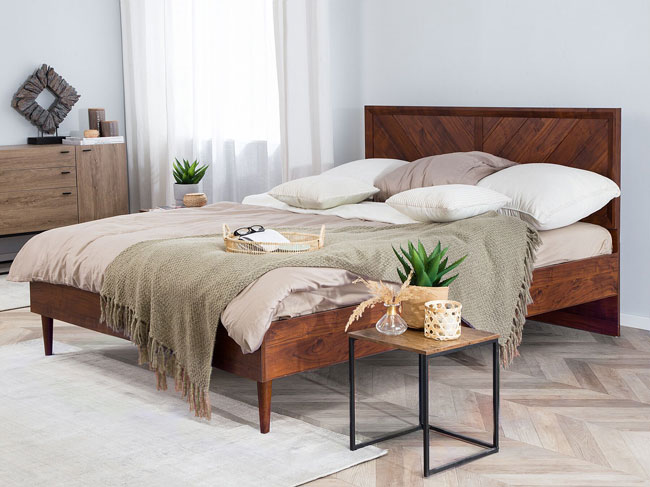 12. Beliani Mialet midcentury modern bed
Not unlike the West Elm design higher up the list. But this take on the look comes in a little bit cheaper.
Like the design though, which again sells itself through the grain of the wood, the tapered legs and a fairly minimalist design. If you like a dark wood finish, you might well be considering this.
As for the price, this one is priced from £399.99, depending on your choice of size.
Find out more at the Beliani website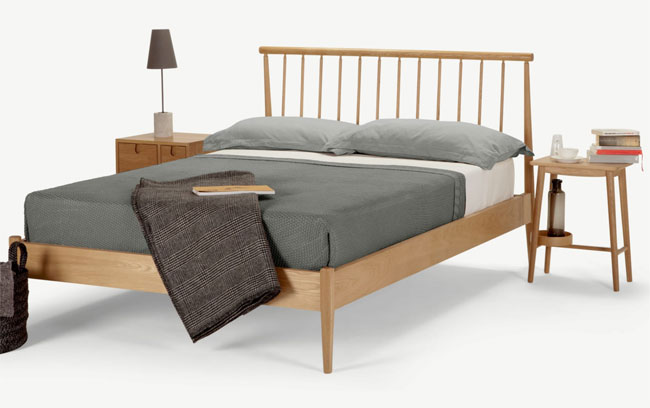 13. Penn midcentury modern bed at Made
If you prefer light wood, check this out. Although it is available in black if you don't.
Clean lines and just the right amount of detail here. The bed has tapered oak legs, a minimalist frame and the star of the show, the headboard with all of those lovely spindles.
It is priced at £725, with additional matching furniture also available to go with it.
Find out more at the Made website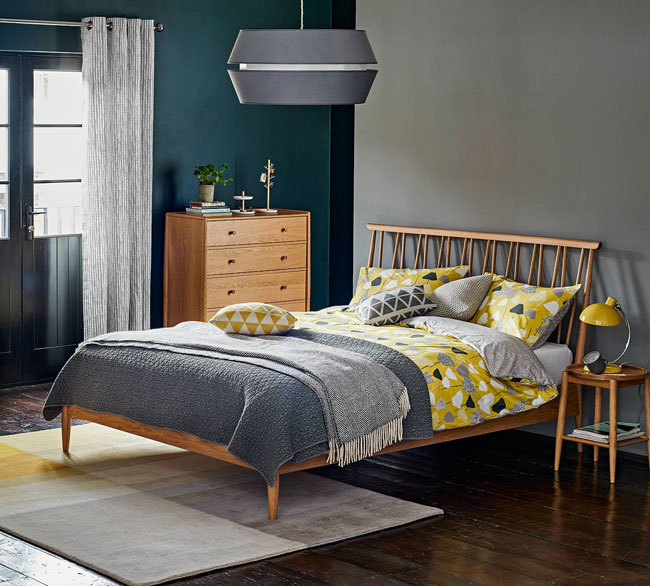 14. Ercol for John Lewis Shalstone bed frame
Seems a good time to feature this one as it's probably the premium take on the one above.
Ercol has been making cool designs for decades and today it is as hip as it has ever been. The one here, made for retailer John Lewis, has those wonderful angled spindles making up the headboard, tapered legs and traditionally crafted dovetail, and finger joints for extra strength.
£959.20 for this one.
Find out more at the John Lewis website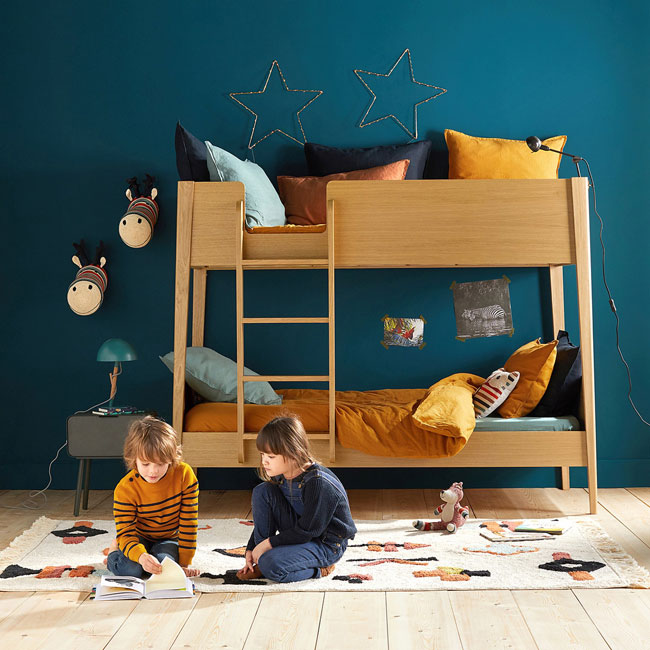 15. Midcentury modern Alceste bunk beds at La Redoute
This isn't all about the adults. I've thrown in a few options for kids too, kicking off with this one, which might help is space is at a premium.
Yes, the humble bunk bed, done with some style at La Redoute. A wood finish, angled legs (and frame), a ladder and the option of a drawer bed too if you need one extra for sleepovers.
Priced from £843.
Find out more at the La Redoute website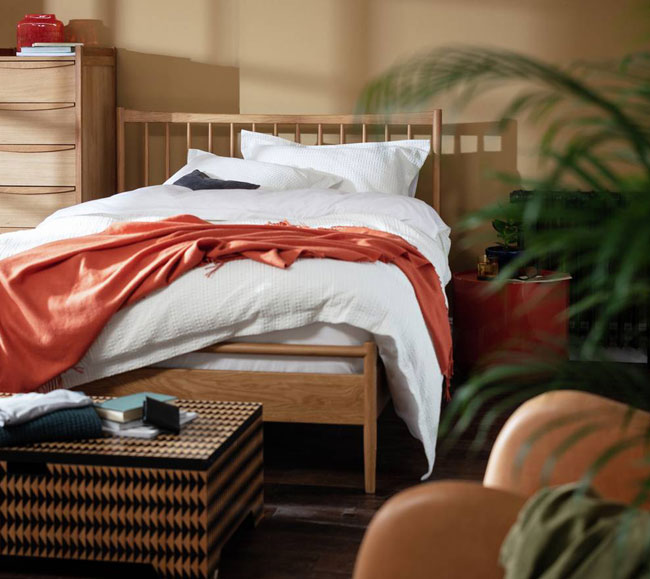 16. Habitat Chiltern spindle double bed
Yes, Habitat is still alive and kicking and although not producing anything as exciting as the Robin Day seating range these days, the retailer is still worth checking out.
This is another one to consider if you want that spindle look, offering an oak finish, the spindle headboard and subtly tapered legs. Not as elaborate as some others, but it does come in cheaper.
This one is £400.
Find out more at the Habitat website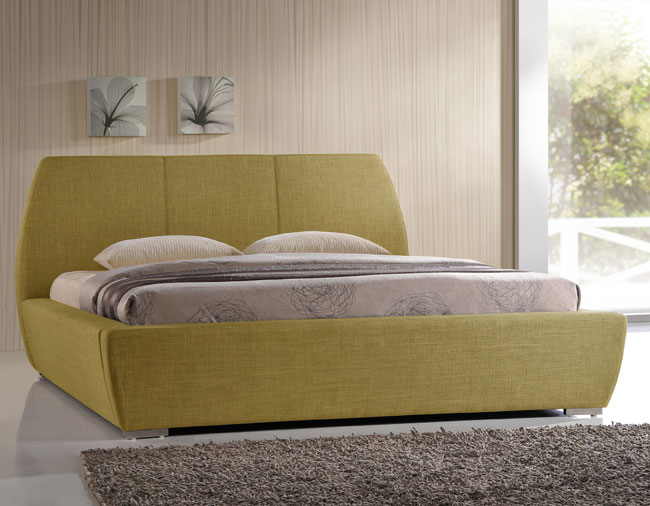 17. 1960s-style upholstered bed at Wayfair
If you want a 1960s vibe in the bedroom, then look no further than this one at Wayfair (of all places).
Two colours, but the green version is the retro option for me. Especially when it happens to be clad all over the frame and on that rounded headboard.
Very cool and yours for £536 in the sale.
Find out more at the Wayfair website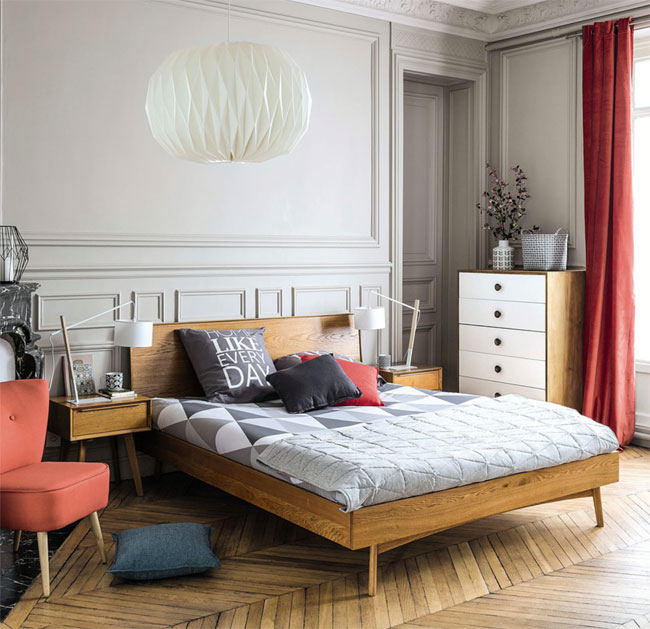 18. Portobello vintage oak bed at Maisons Du Monde
Three sizes, one design. And a strong design too.
You might recall that this is part of the larger Portobello midcentury modern furniture range at Maisons Du Monde. All of which is worthy of your attention. But right now I'm focusing on the bed.
It has an oak frame, a honey-coloured finish, satin varnish and some sharp angles matched up with tapered legs. £562 is the starting price.
Find out more at the Maisons Du Monde website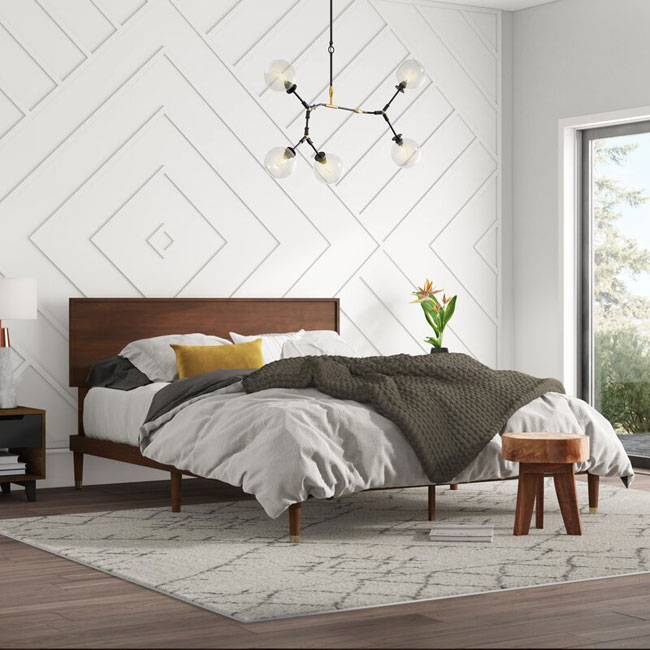 19. Retro Buhr bed at Wayfair
Another dark wood option and another one available via the Wayfair website.
Pretty basic really, but that might well be a selling point for some. Not everyone wants elaborate details. Multiple tapered legs, a raised headboard and a choice of three sizes ranging from single to king size.
The single is £110 and the king is a reasonable £215 in the sale.
Find out more at the Wayfair website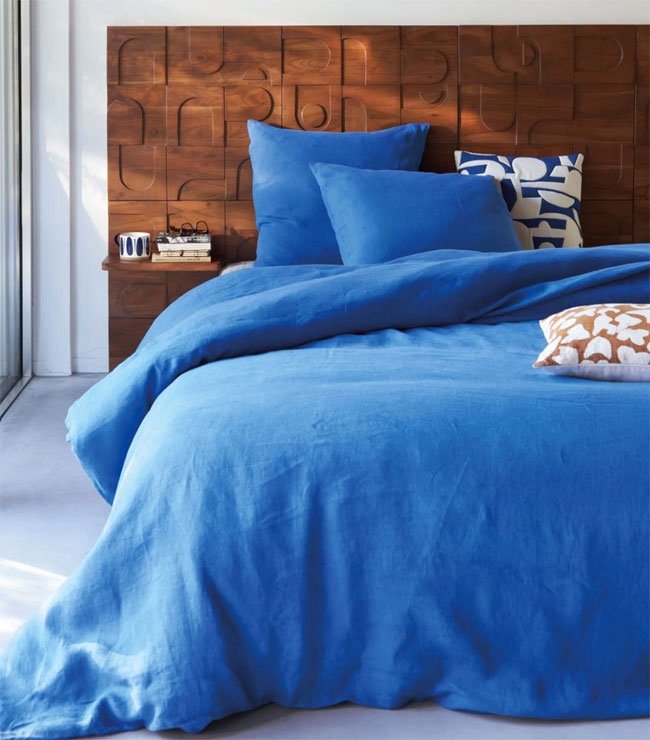 20. Sacramento vintage-style headboard at Maisons Du Monde
How about you skip the new bed and get a new headboard? It's an option, especially when something as cool as the Sacramento headboard is available.
It's an interesting one and to be honest, not the cheapest option. But it looks amazing. Part of a larger retro range of quirky retro/midcentury modern designs, this is a large, solid wood headboard. Yes, that's a great starting point.
But also, you get that intricate carving, which hints at a vintage piece rather this a new one, plus two shelves built-in (although they can be removed).
As I said, pricey at £702, but this is a statement piece that's a little out of the ordinary.
Find out more at the Maisons Du Monde website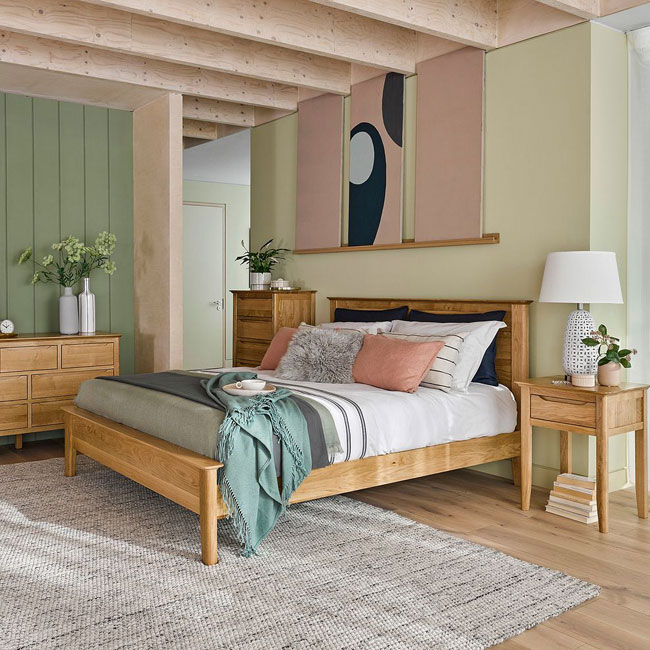 21. Copenhagen bed at Oak Furnitureland
A bit of Scandinavian style off the high street.
cccProbably the most mainstream design here (as you might expect), offering tapered legs, rounded corners and a natural finish. Understated, which is a key selling point too.
£394.99 in the sale if you want this one.
Find out more at the Oak Furnitureland website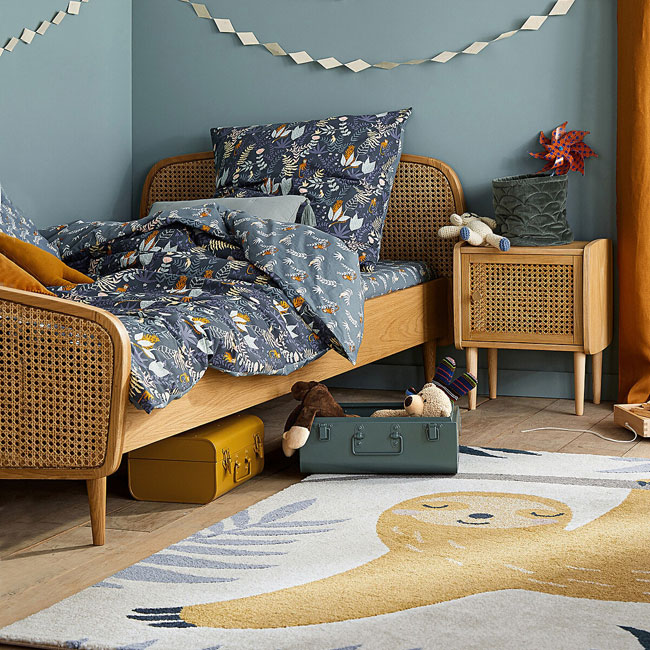 22. Buisseau oak and rattan kids bed at La Redoute
Another option for the kids' room, one with a hint of the 1970s about it. That's probably down to the rattan.
A lovely midcentury modern design though, which also has matching furnishings if you want more. But the bed might be enough, with its oak frame, curved rattan headboards and tapered legs.
£499 isn't cheap for a child's bed, but it might be worth the money to make a design statement.
Find out more at the La Redoute website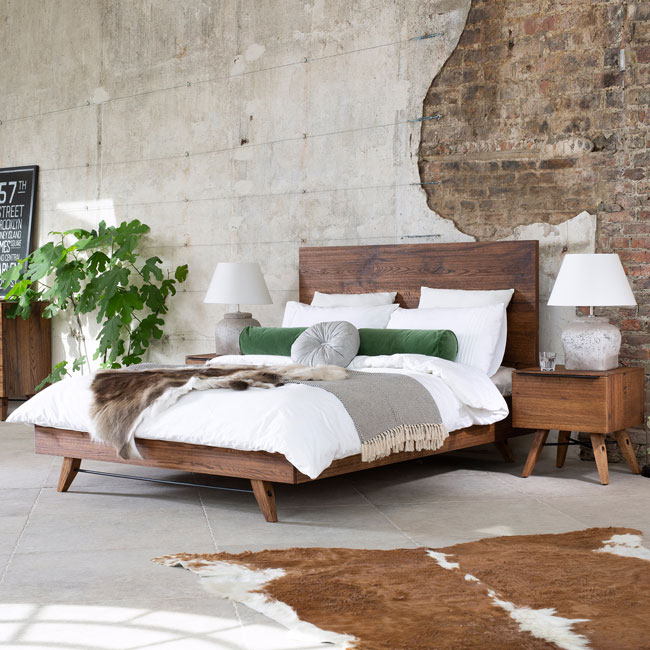 23. Pagoda midcentury modern bed frame at Fishpools
Another one where the wood finish is the defining feature.
Available as a double, king and super king, it has a large flat headboard, a low profile and tapered legs with metal bar detailing. Nice work.
Yours from £519 right now as it is in the sale.
Find out more at the Fishpools website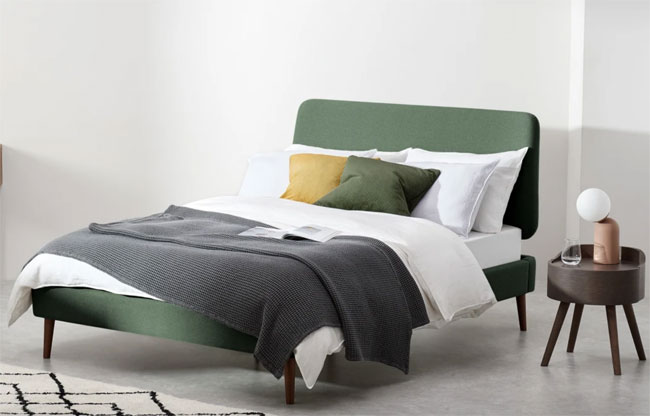 24. Lowrie midcentury modern bed at Made
I think this is my favourite out of all the retro beds at Made. Understated and very hip.
A double and a king-size are available, as well as two colours, a grey and this rather fetching shade of green. A padded, textured fabric covers the frame, sold wood tapered legs add support and the curved head seals the deal.
Reasonably priced from £425 too.
Find out more at the Made website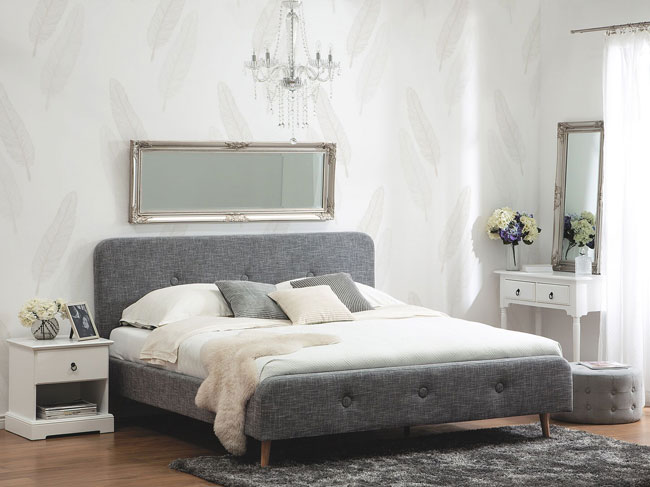 25. Rennes retro bed at Beliani
Another padded affair, this time with some added button detailing.
This isn't one bed, it's an entire range in terms of sizes, designs and colour. The buttons and upholstering are present across all designs, but the sizes vary from single beds to doubles (with tapered wood legs), with a storage bed also thrown in for good measure.
The price depends on what you go for, but they start at £409.99.
Find out more at the Beliani website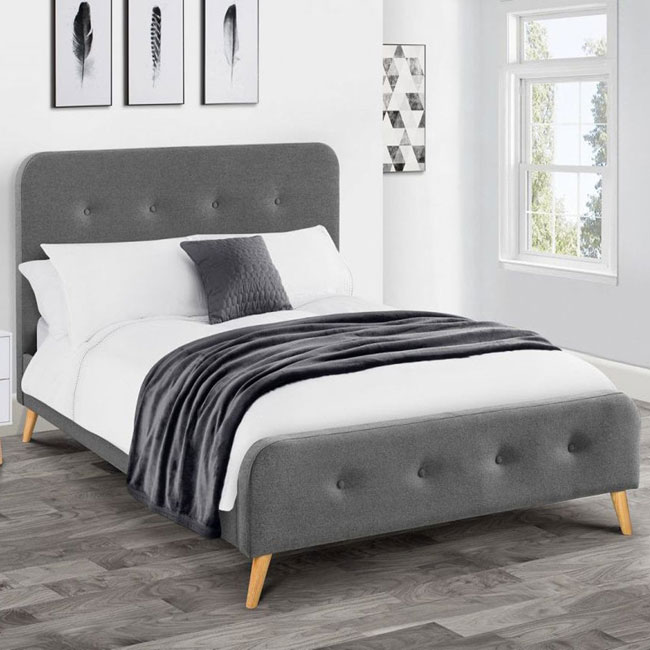 26. Julian Bowen retro fabric bed
Looking for something similar but for less money? Have a look at this one.
It's actually in the sale, hence the price drop. But the design is similar. A king-size bed with button details on the headboard and at the foot, as well as the wooden tapered legs.
Just £329 right now for this one.
Find out more at the Bed SOS website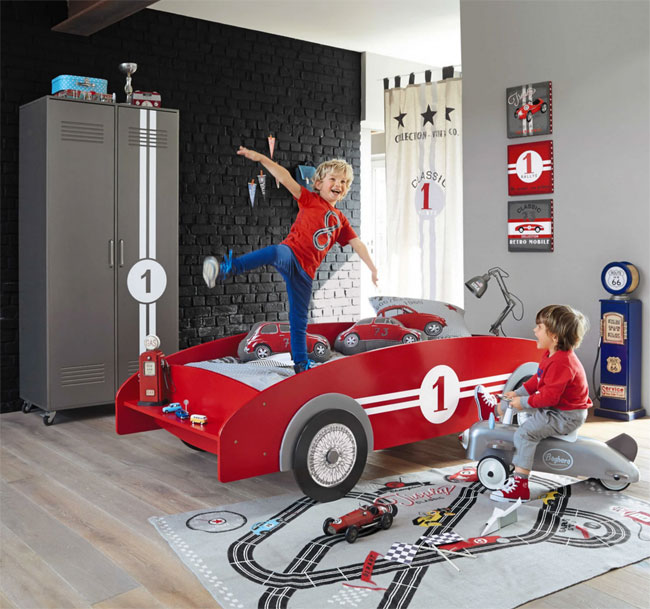 27. Vintage sports car bed for kids at Maisons Du Monde
Another option for the little ones. And a really quirky one too.
This is the bed I would have wanted as a child. Practical? Probably not. If you want that, get one of those storage beds you can pick up anywhere. But for a design statement and pure fun, have a look at a bed that looks like a 1960as racing car.
It's available in two shades, has a seat at the end and sells for £302.
Find out more at the Maisons Du Monde website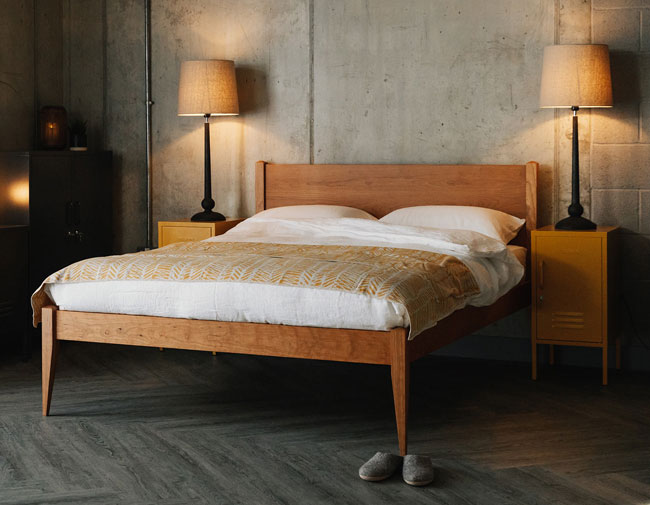 28. Cochin classic bed at the Natural Bed Company
Another option that's all about the wood, but with a touch of retro design thrown in for good measure too.
Solid wood with elegantly tapered legs and a variety of choices for the wood finish, from hardwoods to solid pine.
Also available in a range of sizes, from small single through to super king size. This means a wide price range, but it starts at £750.
Find out more at the Natural Bed Company website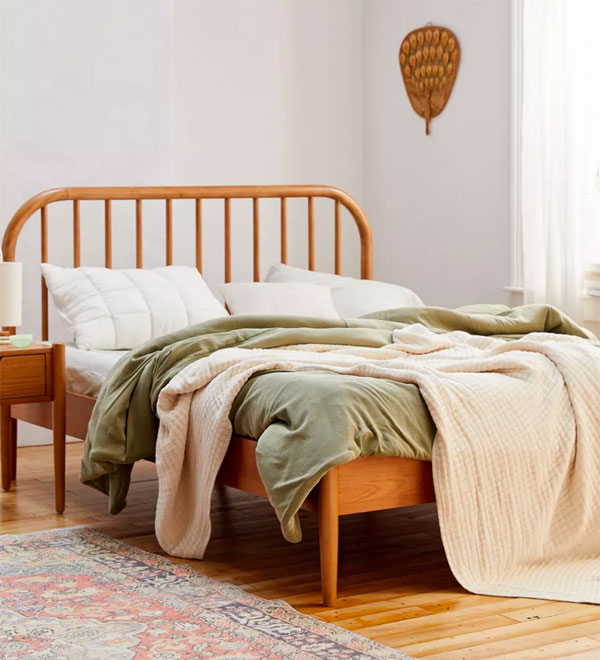 29. Evie bed at Urban Outfitters
I don't think this one is available in the UK, but you can secure one in the US version of the Urban Outfitters website.
Shame really (unless you are in the US) as this is a slight detour from many other beds around. Yes, it has the wood frame and the turned legs, which is pretty much a 'given' for many midcentury modern beds, But I love the curved headboard with the vertical bars.
If they'll deliver to you, then you can pick this one up for $699.
Find out more at the Urban Outfitters website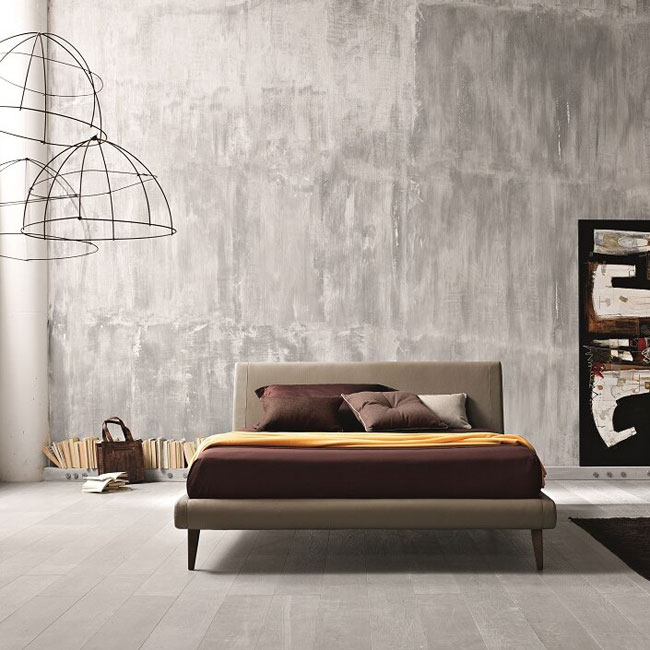 30. Carlsen retro bed at Wayfair
Not the cheapest one at Wayfair and not everyone likes the idea of leatherette. But this bed does catch the eye.
That leatherette finish is key for this platform bed, which has contrasting tapered legs and an angled headboard.
It sells for $1,559.99 in the US version of Wayfair. Can't see it in the UK version, but it might just be out of stock.
Find out more at the Wayfair website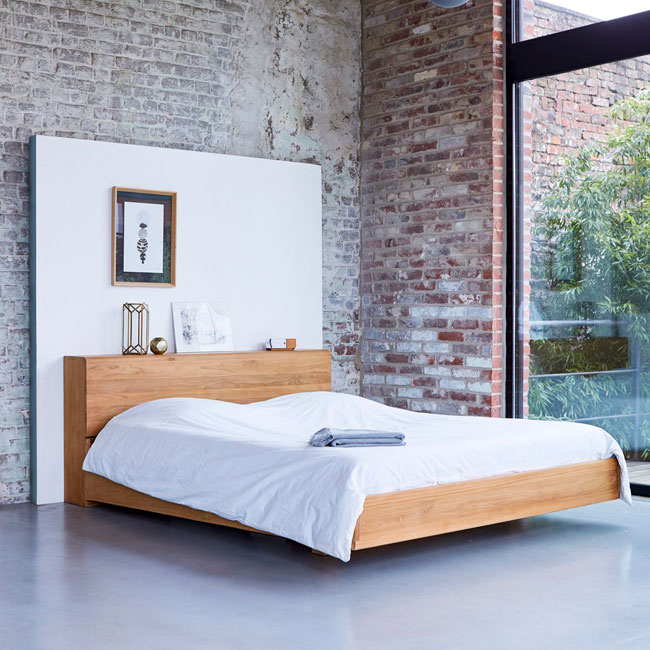 31. Tikamoon flat teak bed
I can just picture this one in some kind of minimal Californian midcentury modern house of the 1960s.
That's the appeal here. That and the fact that this offers something a little different to the other designs out there. It's made from solid, natural and sustainable teak, with a shelf on the headboard and room for a king-size mattress.
£1,199 gets you one.
Find out more at the Tikamoon website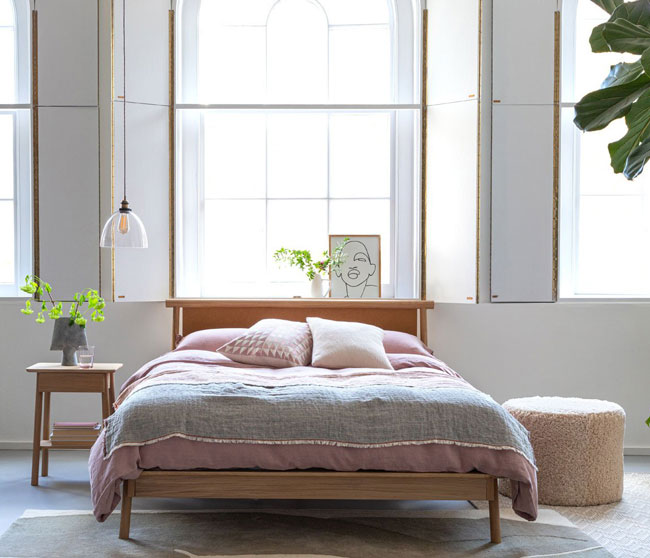 32. Eden bed at Heal's
If you want something premium, beds or not, then Heals is always worth a look. This Eden bed certainly ticks the quality box.
It's a design exclusive to Heal's, with a simple considered design from solid oak, matched with a leather headboard and angled legs for support.
A king-size bed, this one sells for £1,039 in the sale.
Find out more at the Heal's website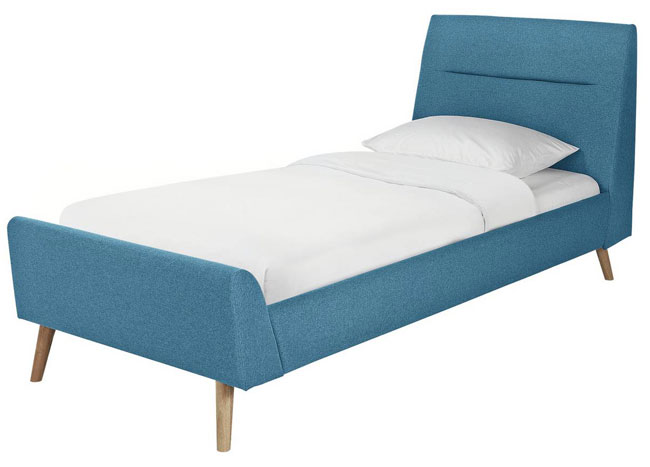 33. Habitat Finn midcentury modern single bed
Not many obviously retro single beds around and especially beds that are singles. But Habitat has that niche covered.
A very sharp 1960s design, it has blue upholstery, an eagles headboard and end, contrasting tapered legs and a design that I haven't seen anywhere else.
£290 is the price.
Find out more at the Habitat website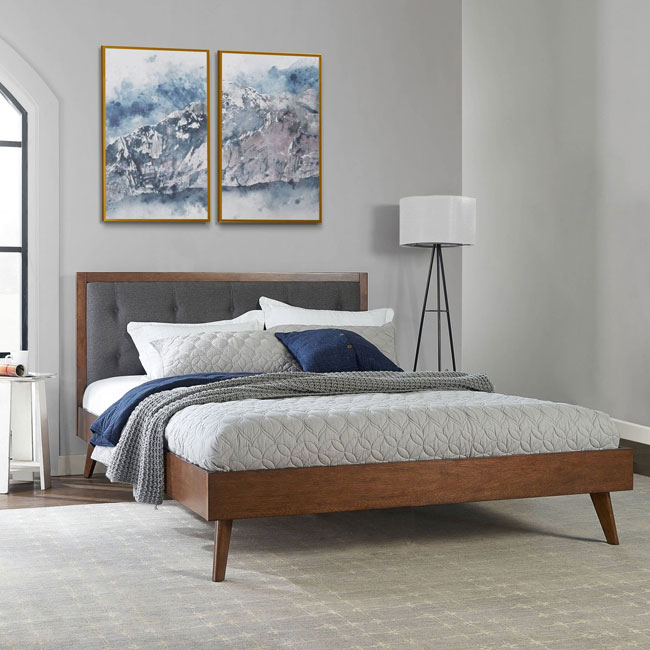 34. Reid platform bed at Target
I'm ending with a couple of US designs, purely because they offer a look you don't see in the UK. One (this one) from the high street and another from a specialist midcentury modern retailer.
The one here is worth checking out though. A bed frame with an ash wood veneer in a medium brown, walnut finish, a button tufted upholstered headboard in different shades and angled tapered legs.
$449.99 for this one in the sale.
Find out more at the Target website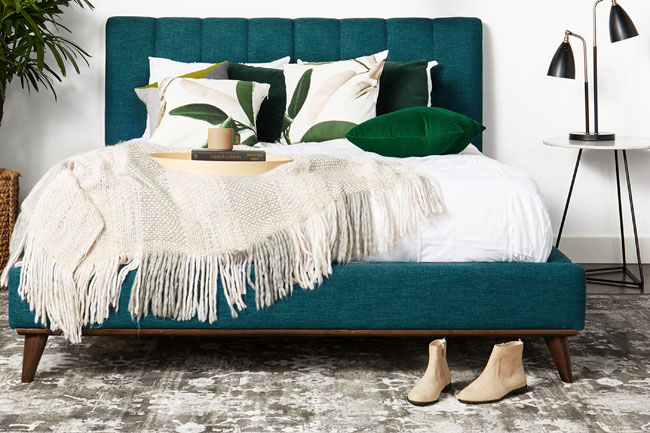 35. Hughes midcentury modern bed at Joybird
There is a full range of midcentury modern beds at Joybird, with this one alone offered in 18 fabric finishes. In short, have a look.
But right now, have a look at the top seller of the range. Choose your upholstery and size, with plenty of velvet finishes available to you. The dark wood frame is low-lying and cool, the headboard has just the right amount of detail.
And even better, the bed is in the sale. Prices now start at $1,596.
Find out more at the Joybird website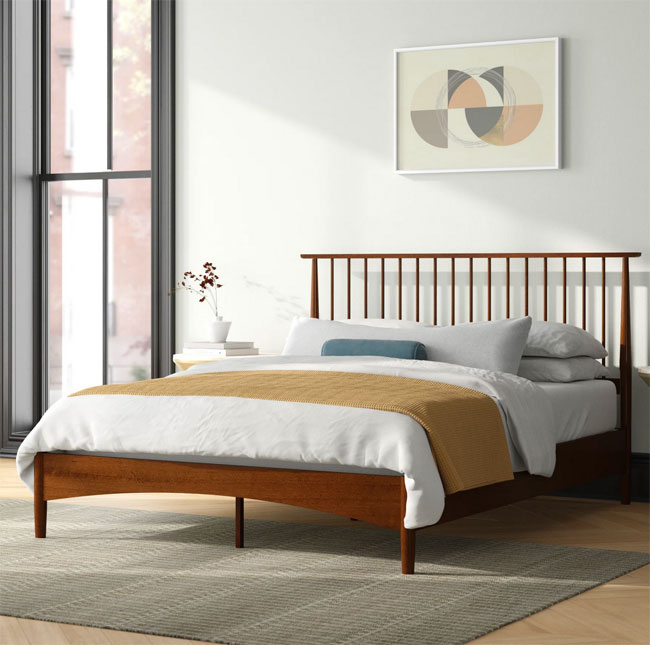 36. Kilgo midcentury modern bed at Wayfair
I suppose you could say this is an Ercol-style bed without the Ercol price tag.
Of course, do have a look at Ercol, who make wonderful furniture – and that includes beds. But if your budget is tight and you want the 'look' then this might be a good alternative. And it is in the sale too.
Available in sizes from single to super king, this has a wood frame, subtly tapered legs and the spindle headboard that really makes a statement.
The prices start at £217.99.
Find out more at the Wayfair website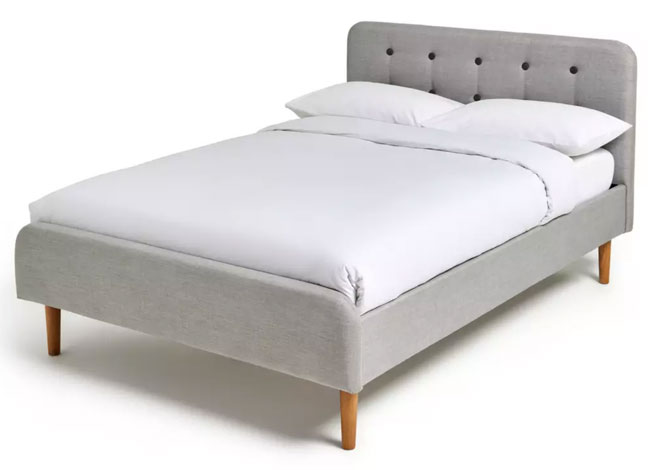 37. Habitat budget Aspen bed
Sizes from single to king size. But all well-priced if you are on a budget.
It has the look, with the fabric upholstery and button back, as well as the wood tapered legs. And you can buy a matching ottoman too, which might be useful for keeping your spare bedding in.
But the big pull is the price, with the beds priced from just £210 and with a 20 per cent off code at the site right now too. So even cheaper in reality.
Find out more at the Habitat website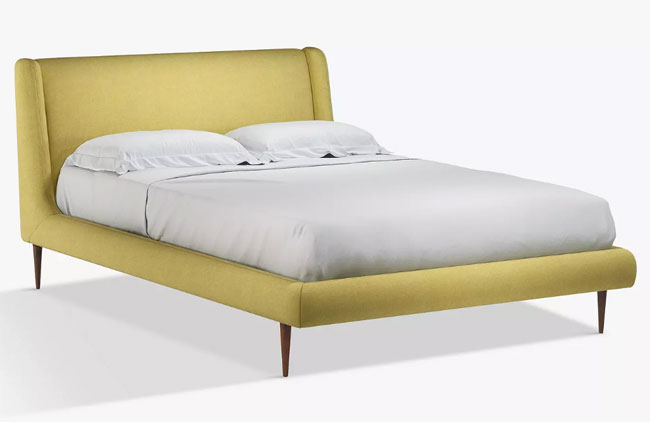 38. Sweep bed at John Lewis and Partners
No, this is nothing to do with the iconic TV puppet. The name hints at the shape.
A subtle 'sweep' across all of it with the curves in the upholstery. And you are not limited to the colour you see here. There's a huge choice, including many retro shades. Skinny tapered wooden legs too.
A great-looking bed, whatever colour you go for. £749 is the price.
Find out more at the John Lewis and Partners website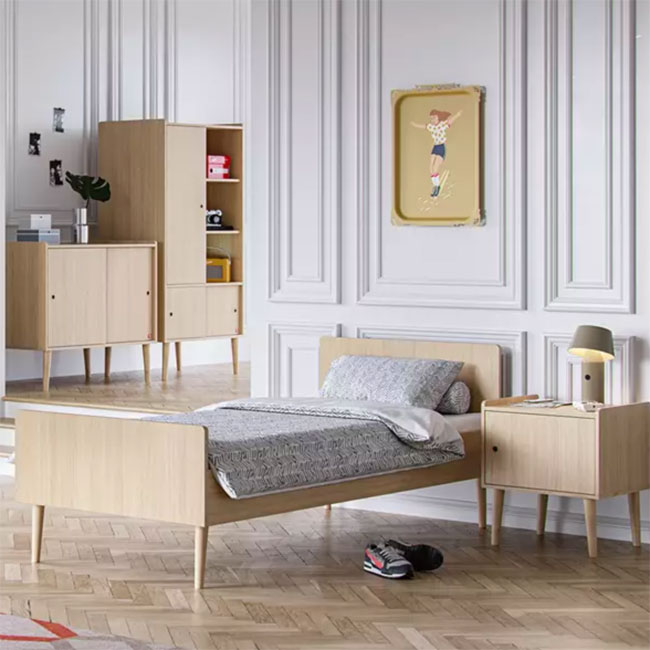 39. Vox Retro Single Bed
Not just a bed. This is a complete bedroom, as you can see in the photo.
But if a single bed is something you need, have a look at this one. Light wood and fairly minimal, but with enough retro notes to make its mark. Match it up with some cabinets too, should you need them and if your budget is big enough.
But if you just want the bed, you are looking at £345.
Find out more at the Cuckooland website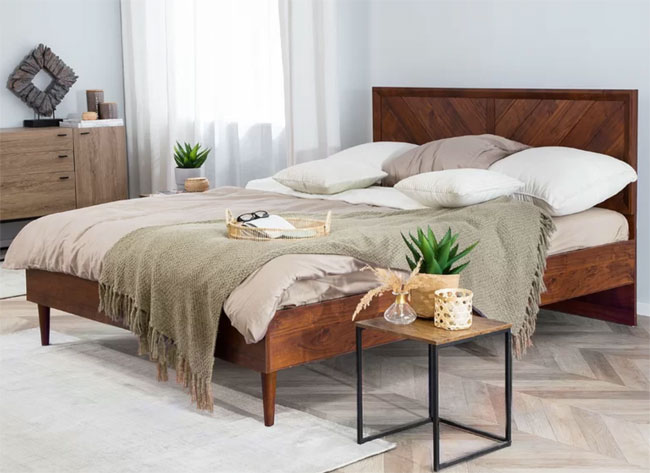 40. Teri bed at Wayfair
Something classy and classic and I would guess, more akin to something you would have found in a stylish house of the mid-20th century.
Three sizes, a dark wood construction, tapered legs and an oversized feature headboard. It's a great-looking thing.
Prices start at £619.99 and go up a little if you want to size up your bed.
Find out more at the Wayfair website
That's it for now. I'm sure I'll find more, so do keep an eye out of none of the above catch your eye. As I said, it's a boom time for midcentury modern beds, so others will appear and when they do, I'll pick out the best here.