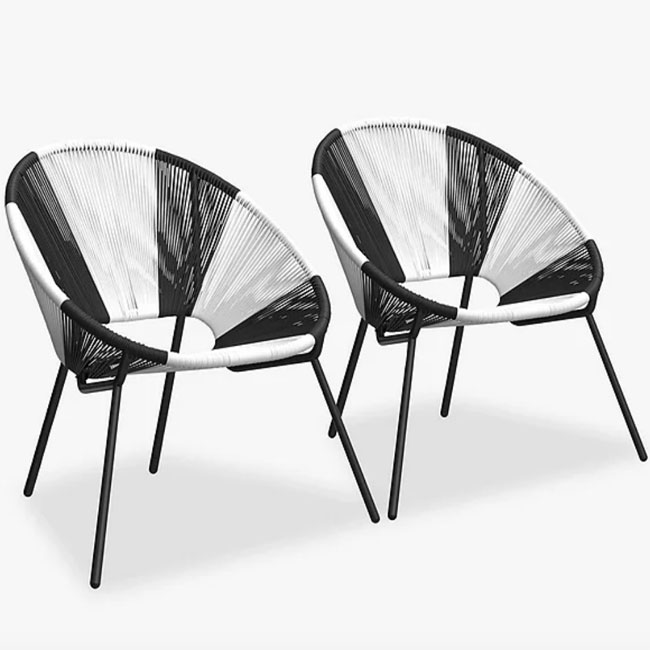 Note all articles are independently researched and written by myself. However, if you buy via one of the links it may be an affiliate and I may earn a small commission.
Seeing as the sun is out, it seems like the perfect time to compile my 20 of the best retro garden chairs. But don't hang about as many will sell out.
Of course, the heatwave might be over by the time they arrive, but the summer still has a long time to run and with that in mind – and considering some are in the sale or in short supply – it might be a good time to buy. The best retro garden chairs are always in shirt supply in the summer.
Hopefully, there is something here to suit your budget and your garden. I've tried my best to mix things up to cover both, as budgets and gardens can range from very small to considerable. For reference, I tend to work on the smaller side. But to help everyone along, here are a few options to get you relaxing in style…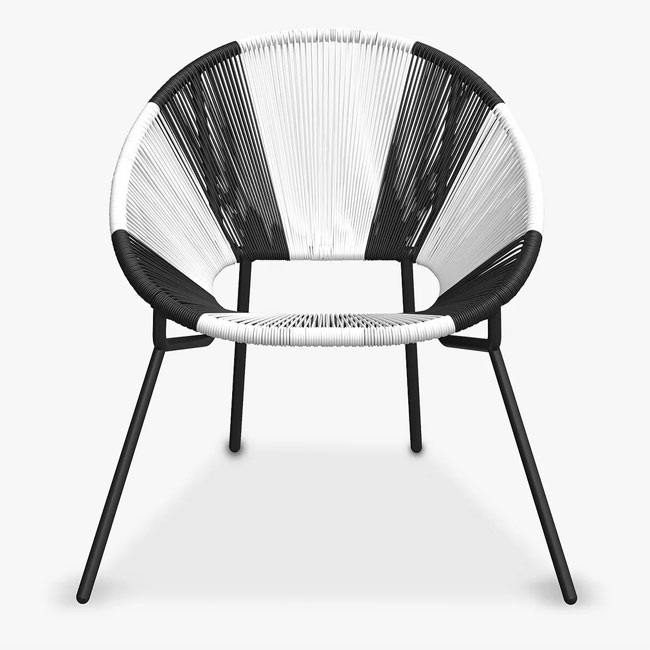 1. Monochrome Salsa garden chairs at John Lewis and Partners
There will be a few of this style coming up, as the classic 'Acapulco' is just that. A timeless design that looked good in the 1950s and still looks good today.
Of course, you can mix it up a bit and that's what John Lewis has done, going for an eye-catching monochrome finish for its version of the outdoor seat. It works too, adding in a 1960s vibe (if that's your thing).
Sold in a pair, they retail for £189.
Find out more at the John Lewis and Partners website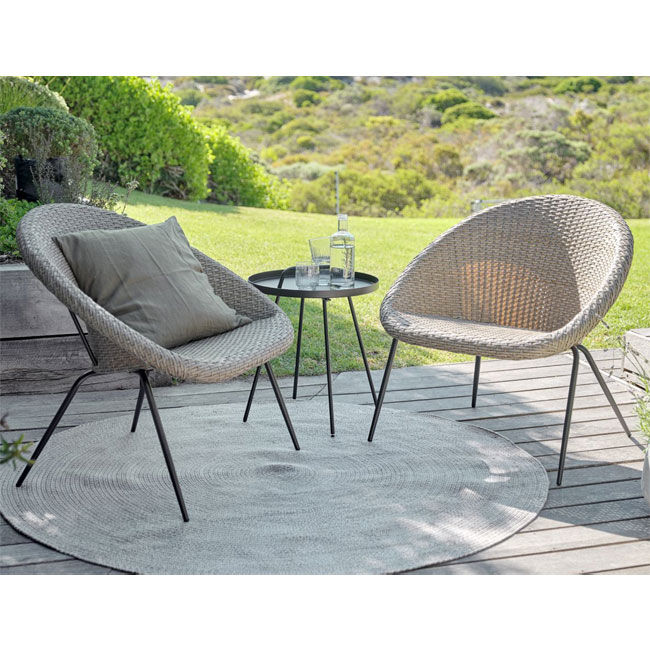 2. 1950s-style Bording lounge chair at JYSK
Always a store to check out for retro goodies. And I like the look of this one for a timeless look.
Or a 1950s look, which is when this chair first made its made. Although as more of an inside seat than an outside one. The model here has a black steel frame, a polyrattan upper for the seating and a lovely look, due mainly to the simplicity of the design.
£85 if you want one. And yes, there is a matching table too.
Find out more at the JYSK website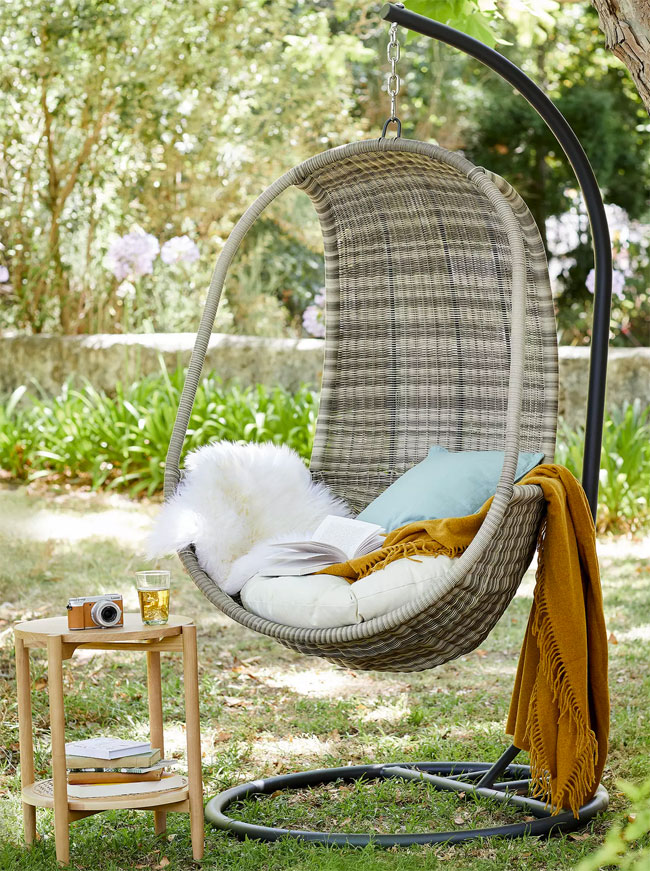 3. John Lewis and Partners Dante Pod hanging chair
If the 1970s is more your scene, check out the Dante Pod hanging chair.
1960s or 1970s I guess, as this kind of swinging chair was popular in both decades. But for some reason, perhaps due to that woven finish, this one has more of a 1970s feel about it.
A steel frame supports the wicker chair, which is the perfect place to sit, lounge or read when the temperatures rise. Or just watch the world go by.
£625 is the price if you want to hang out in this particular hanging chair.
Find out more at the John Lewis and Partners website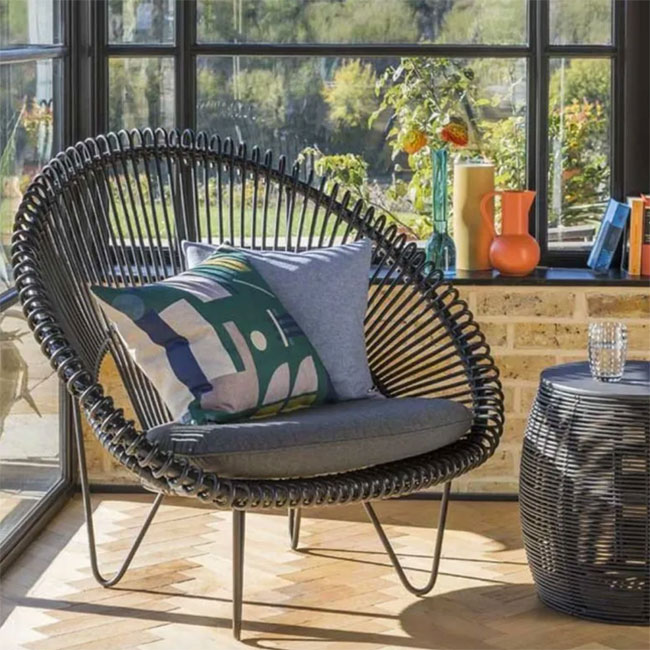 4. Retro Roy Cocoon Chair at Heal's
Part of a range of designs by Vincent Sheppard, the Roy Cocoon Chair at Heal's is the standout for me.
This one is a nostalgic take on the 'basket chair' of the past with a water-resistant construction and a design inspired by the 'Lloyd Loom' weaving technique, A couple of colour options, both with some hip hairpin legs finishing things off.
Pricey though at £943.
Find out more at the Heal's website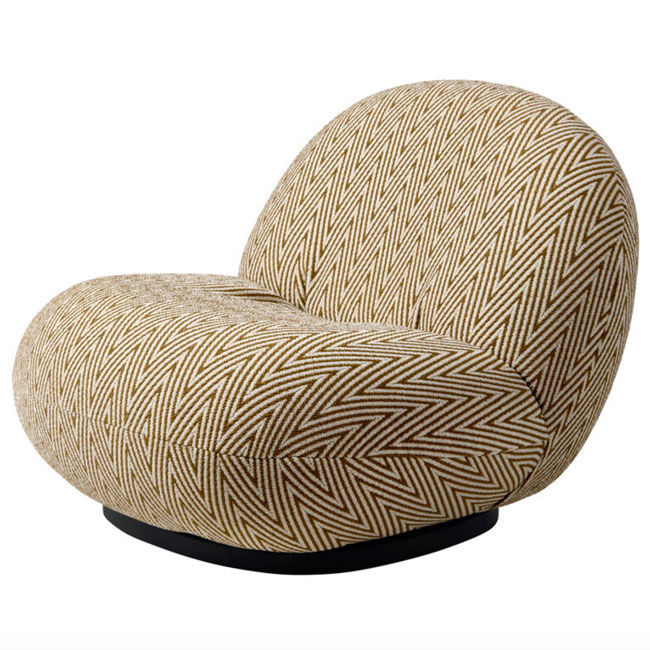 5. 1970s Pacha outdoor lounge chair by Pierre Paulin
If you have the money, then check out this 1970s classic, available in a variety of shades.
Gubi has introduced this 1975 design as an outdoor chair, adding water-resistant fabric to make it compatible with the British summertime weather.
Regardless of that, this is still an icon of its day and a chair that has lost none of its impact as the decades have passed. So relaxed, comfortable seating, as well as the bragging rights of having a design classic in your outside space.
However, at £3,499 (and that's in the sale, would you believe) it isn't for everyone and you may want a look at the rest of the retro garden chairs rundown for something more in your budget.
Find out more at the Finnish Design Shop website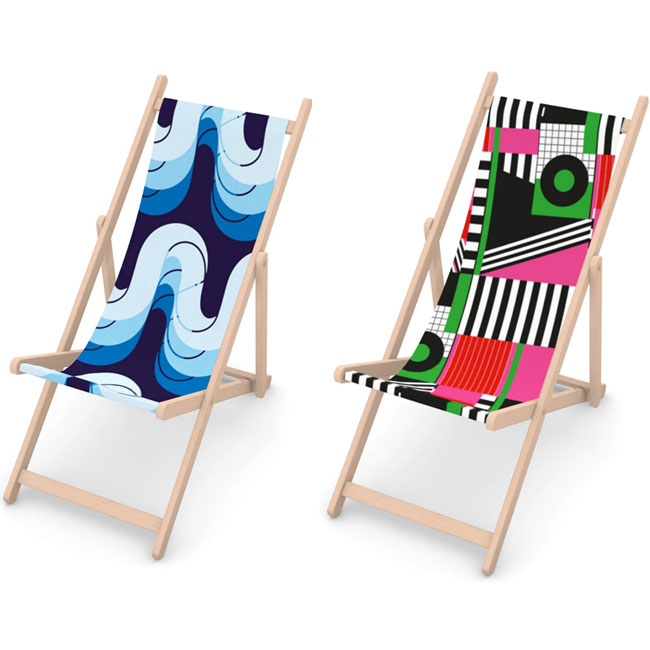 6. Made-to-order retro deckchairs by Storigraphic
There's much to love about this company, both in terms of his it runs its business and the products that it offers. In terms of the latter, these retro deckchairs have just been added to the range.
The basis for each is one of the maker's wonderful retro cloths, which is used alongside
an FSC-certified beechwood frame. The cloth has a sewn hem and is tacked onto the frame. The finished product 'comfortably' holds a weight of up to 100kg and a hip-width of 41cm and looks pretty amazing.
Note each one takes 15 days to make and deliver, and you can get 15 per cent off the price if it is your first order. Talking of ordering, each sells for £170.
Find out more at the Storigraphic website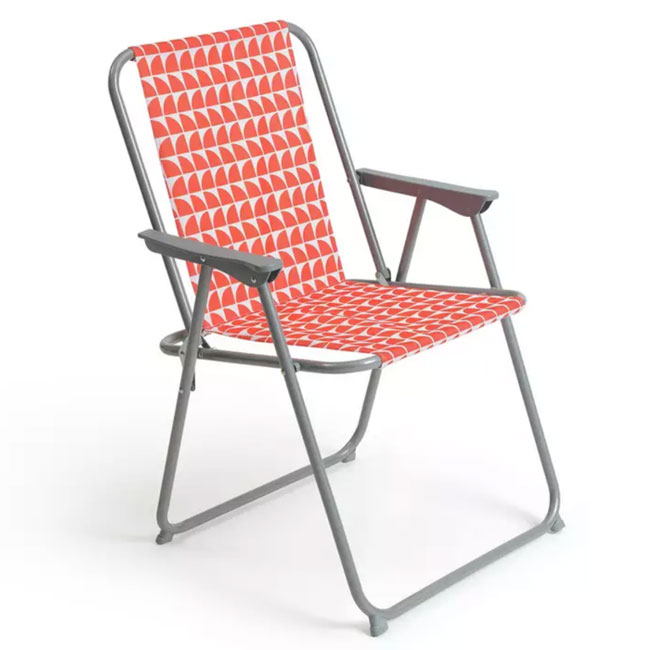 7. Habitat folding metal picnic chair
Habitat is great right now when it comes to affordable design and especially garden seating. They do some pricier options but if you want something cheap and portable, have a look at its folding metal picnic chairs.
They do folding sun loungers in a similar style, but if you just want a chair, they have a few options with retro fabrics. All are collapsible, portable and appealing to the eye.
Best of all, at £18 each, they don't break the bank.
Find out more at the Habitat website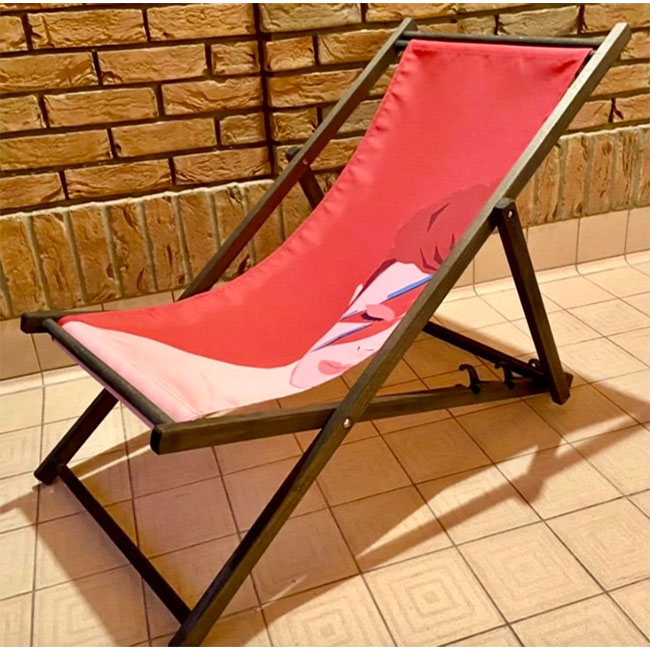 8. David Bowie deckchair by Anarchy of Deckchairs
Plenty of deckchair designs out there for the best retro garden chairs rundown, but none quite as eye-catching as the ones by Anarchy of Deckchairs.
Do have a look at the full range, as there are some very bold designs to brighten up the dullest outside space. There are sets (including this one with a matching table), but there are individual chairs available too – like this one. Perfect for the 1970s Bowie enthusiast.
A solid beech frame, canvas seating, and three positions for lounging. I think that's about it. Well, apart from the price which is £89.99.
Find out more at the Anarchy of Deckchairs Etsy website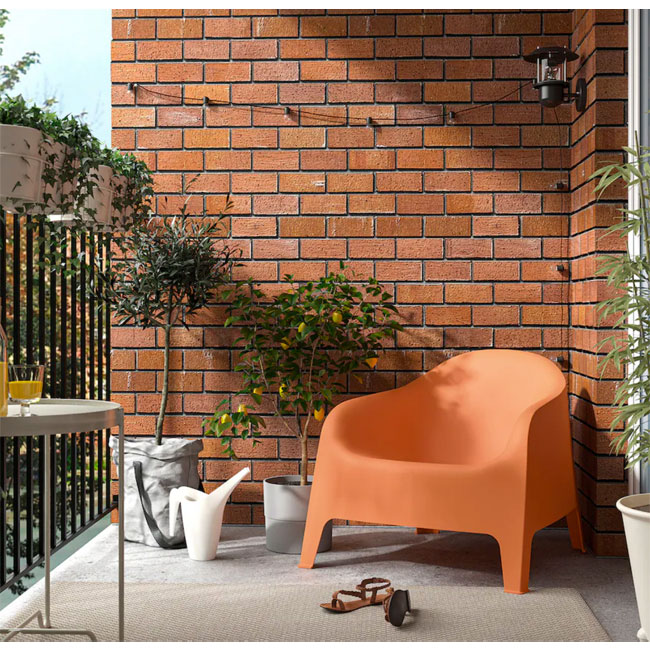 9. Skarpo outdoor armchair at Ikea
The original best retro garden chairs rundown of these garden chairs featured the much-loved Vago garden seat. But for some reason, Ikea has done away with it. Not to worry, though, as it has been replaced with a similar Skarpo chair.
Personally, I find the Vago more interesting and, with its curves, a little more retro. But this one isn't a million miles from it and has the bonus of coming in colours too. Let's be honest; an orange chair for the garden is always an eye-catcher.
But pricier at £49.99 too, but still an affordable option.
Find out more at the Ikea website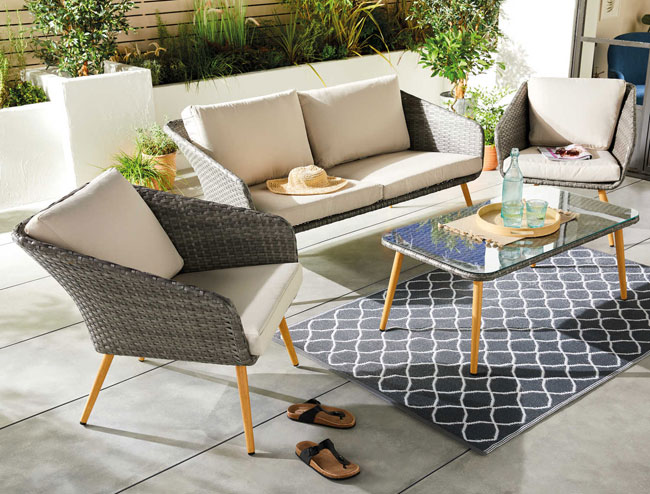 10. Midcentury modern-style garden seating at Aldi
This one comes and goes out of the range, so you might need to keep checking for this midcentury modern-style garden seating at Aldi.
Yes, I did say Aldi. This tends to come up in its 'special buys' range and at this time of year. When it does, it sells quickly as it offers a lot of style and a lot of value. I picked up a set a couple of summers back, and it still looks as good this summer.
It sells as a set, with two armchairs and a sofa, as well as a coffee table, all with tapered wooden legs supporting the wicker body. It's Aldi, so good value too. £299.99 for the whole lot.
Find out more at the Aldi website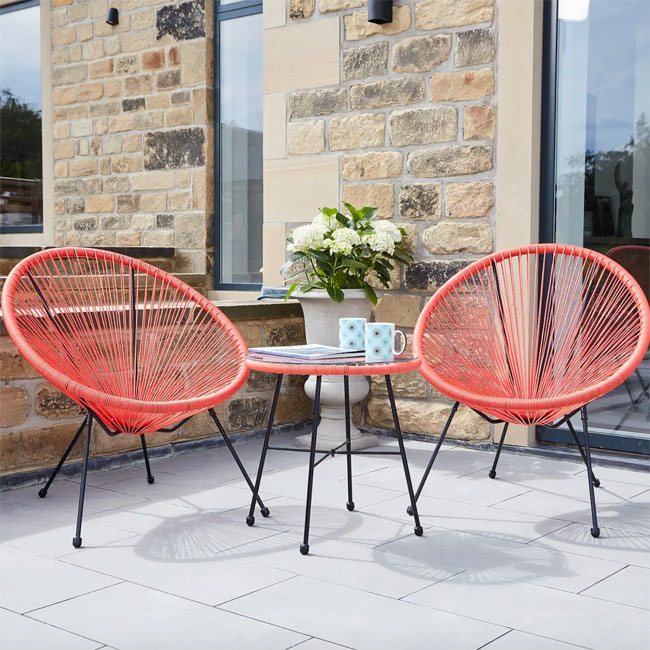 11. Rio retro bistro sets at La Redoute
Yes, we are back with the 'Acapulco' design once more, with La Redoute offering its own twist on the style.
Not much of a twist, if I'm honest. This is pretty much what you would expect but with a few caveats. First off, so many colours are available for this one. Pretty much any you can think of.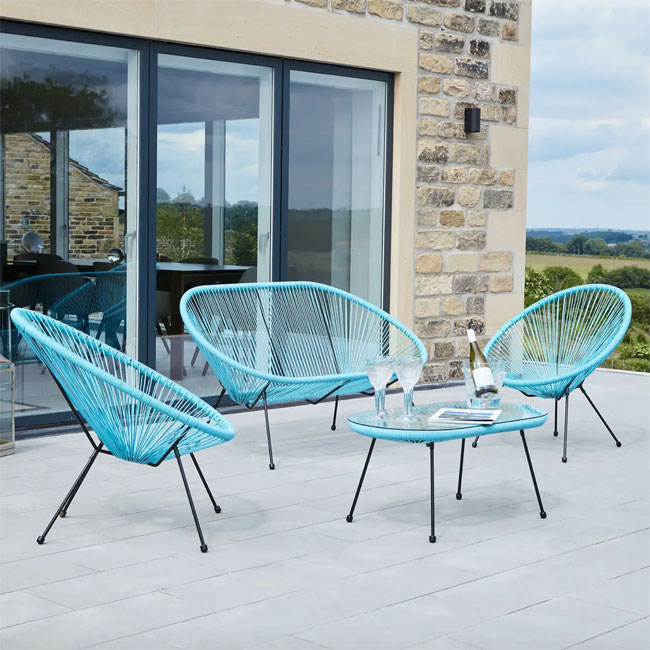 Secondly, this isn't just about the chairs; you get a similarly-styled retro table to go with it, Which is always useful. And as you can see from the imagery, you also get a choice of going just for the chairs and table or having the sofa design too, which comes with a bigger table.
Basically, take your pick depending on your needs. The price is reflected in what you go for, but as a guide, the smaller set is £249, and the larger one is £579. Worth checking on the La Redoute site, too, as they pretty much always have a discount running.
Find out more at the La Redoute website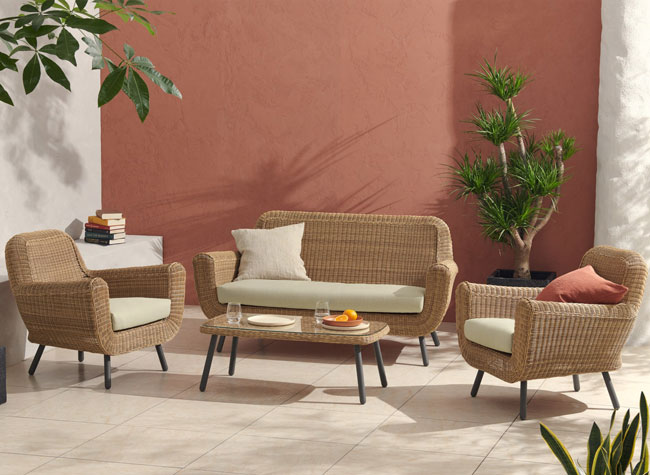 12. Jonah retro garden lounge set by Made at Next

This one has always proven popular, perhaps due to the look and the range of designs within. Maybe that's why Next, which has acquired the label, was keen to bring it back.
You can just buy the sofa or the armchair in a couple of different shades (the natural being my favourite), both of which have a strong midcentury modern look. Or you can go big and buy a full set like the one above (there are other large sets) if you have a large space to fill.
A decent option for whatever you want to do. Prices start at £549 for an armchair.
Find out more at the Made at Next website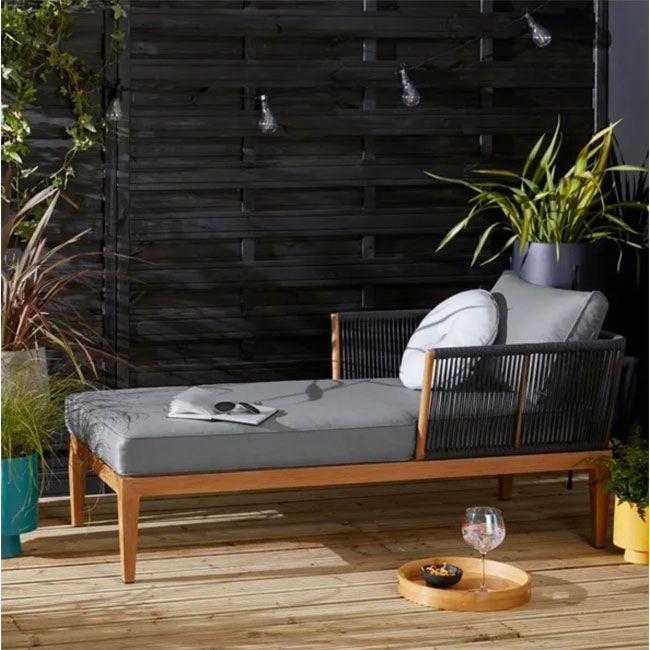 13. Midcentury modern Rope Lounger at Dunelm
A lovely bit of furniture for your garden. Looks perfect for a lazy day too.
It's a seat meets day bed, with what's described as an 'intricately braided rope' at the side, plus cushions for comfort. Love the MCM wooden frame too.
At Dunelm, so not going to break the bank, especially as it has just gone into the sale too. £249 gets you one at the moment.
Find out more at the Dunelm website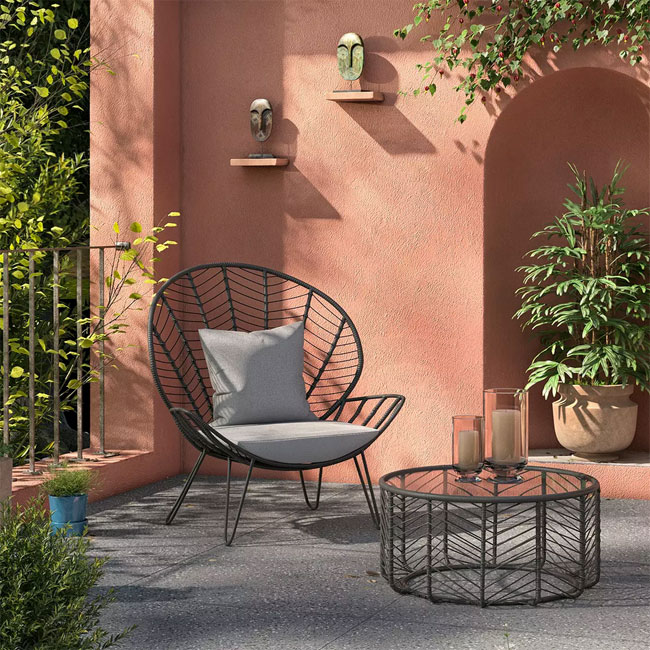 14. John Lewis and Partners Chevron statement garden chair
It's described as a 'statement' chair, and it really is hard to disagree. This is a chair that means business.
More than a touch of midcentury modern about this one, with a design that is hand-woven with a synthetic weave on powder-coated metal frames. This makes it both durable and weather-resistant, so you can even leave it outside throughout the year. Just don't leave the cushions out, too, as they most certainly are not, although they will withstand a shower.
£319 for this chair.
Find out more at the John Lewis and Partners website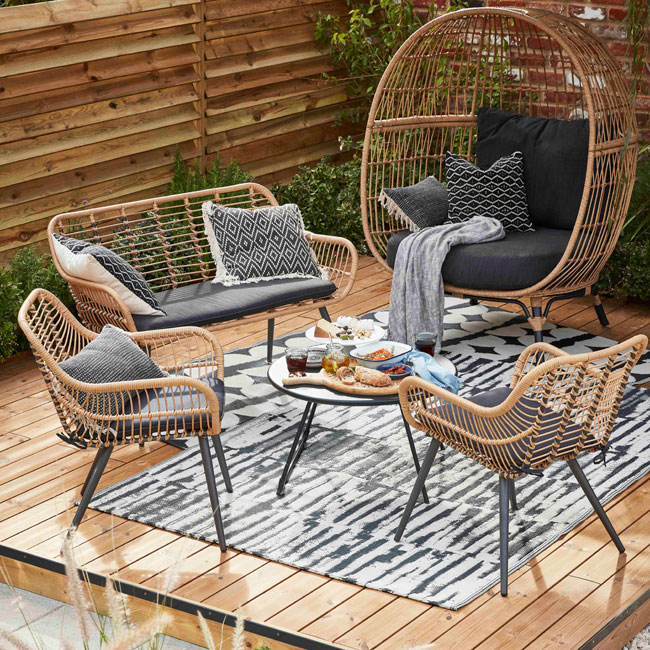 15. Apolima rattan effect seating at B&Q
Modern, with an unmistakable hint of the past. That's the Apolima range at B&Q.
And it is a range too. With a nod back to the 1970s (and even further with those angled legs), this collection has everything from chairs and sofas to static and swinging egg chairs, as well as a table in the middle.
So if you are looking for a full range for a larger garden or patio area, then this is one to check out. Although as I write, some stock is yet to arrive. But that wonderful egg chair most definitely is.
As for pricing, it is B&Q, so down from some of the designer ranges. The chairs are £75, and that huge egg chair is £395. Everything else falls between the two.
Find out more at the B&Q website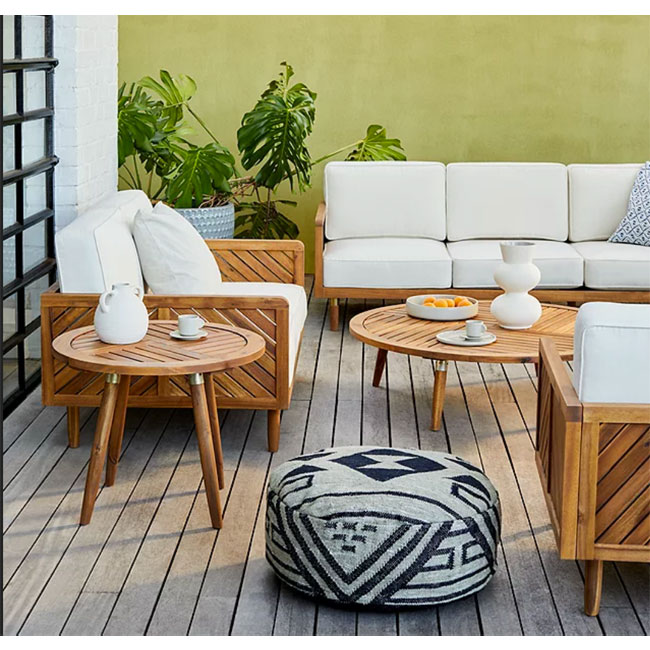 16. John Lewis x Swoon midcentury modern Franklin garden seating
A full range for your garden – and just as cool as anything for the indoors.
John Lewis has teamed up with Swoon (formerly known as Swoon Editions) to create an angular seating range, complete with high-slatted sides and lovely tapered legs. Very eye-catching. As you might have noticed, there are some equally cool tables to match up with the seats too. Enough for the biggest of gatherings.
Of course, it will mount up as you buy more. As a guide, £379 gets you an armchair, sofas start at £599, and for £1,586, you can get two chairs, a sofa and a round table.
Find out more at the John Lewis website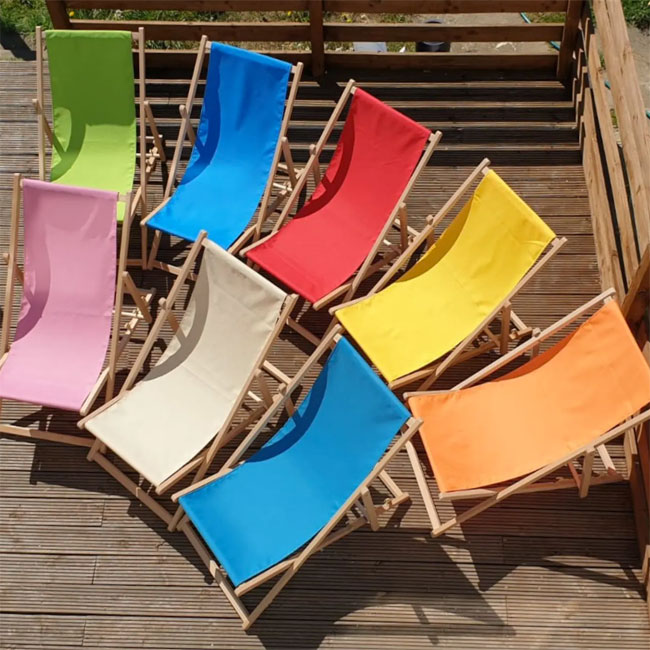 17. Classic deck chair by Wood and Wicker
I couldn't really do this round-up without going for a British beach classic. The folding deck chair.
Yes, I did a Bowie one earlier, but if you want something a little more plain (but not too plain) then have a look here. Yes, you can probably find striped ones like the old beach ones, but I like the fact that this maker offers handmade chairs with bright and colourful finishes.
Those splashes of colour will bring a garden to life, and when you run out of energy, they're great for kicking back in. As I said, each one is handmade and made of strong FSC natural beech wood and canvas. Three seating positions and easy to carry around. That's why they have been around so long.
£59.99 is the price and slightly cheaper if you want to buy two.
Find out more at the Wood and Wicker Etsy website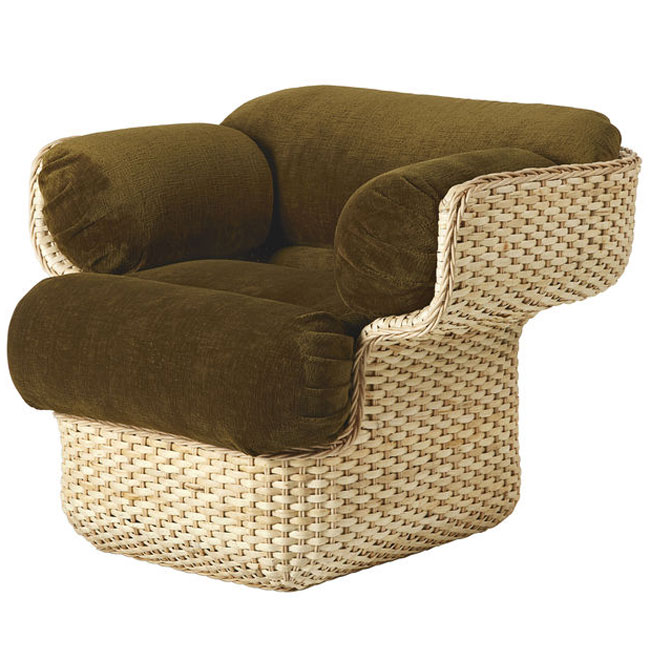 18. 1960s Joe Colombo Basket seating range
Now we are talking. The coolest outdoor seating range ever made has just been reissued, and if you have the money, you need to see it. Had to make my best retro garden chairs rundown.
Ace space age designed Joe Colombo designed this range in 1967, a suitably spacey design for your garden, garden room or conservatory. Not that I would be leaving something of this price outside.
Various colours to choose from for the oh-so-comfy upholstery up top and, of course, a lovely curve for the 'Basket' frame. Oh yes, it's all handmade, too, would you believe?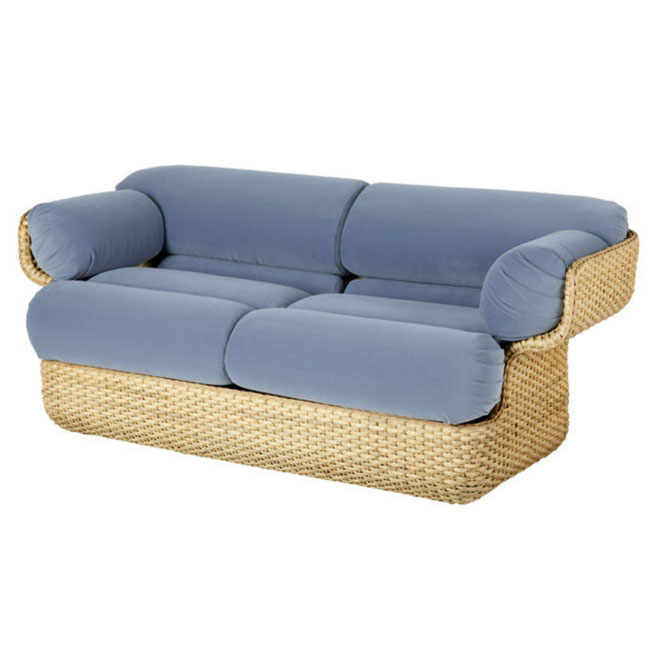 As I said, very expensive, with a chair being the cheapest piece at £2,400. The sofas are at an even more eye-watering price. If you come onto some money and want the coolest garden on the block, you know where to look.
Find out more at the Made In Design website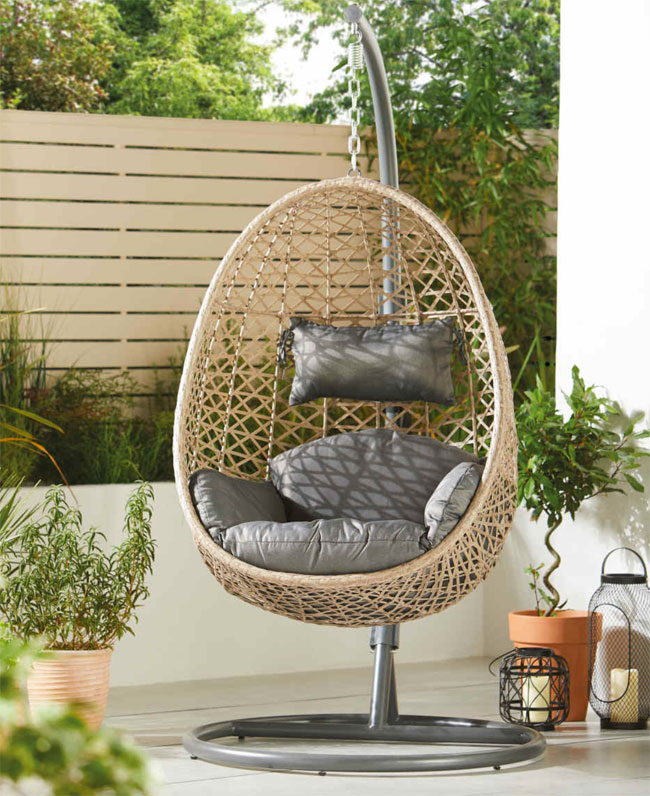 19. Retro hanging egg chair at Aldi

Amongst the discounted fruit, vegetables, and groceries is this retro hanging egg chair at Aldi.
Ok, probably not, as it might be a tough ask to get it in your car. But you can get this wonderful design online at Aldi. It has sold out quickly in the past, but it is in stock online as I write.
Find some space, build it, and then spend minutes and hours swinging away with a good book. It's what summer days are all about. At £149.99 it is probably cheaper than you might think too.
Find out more at the Aldi website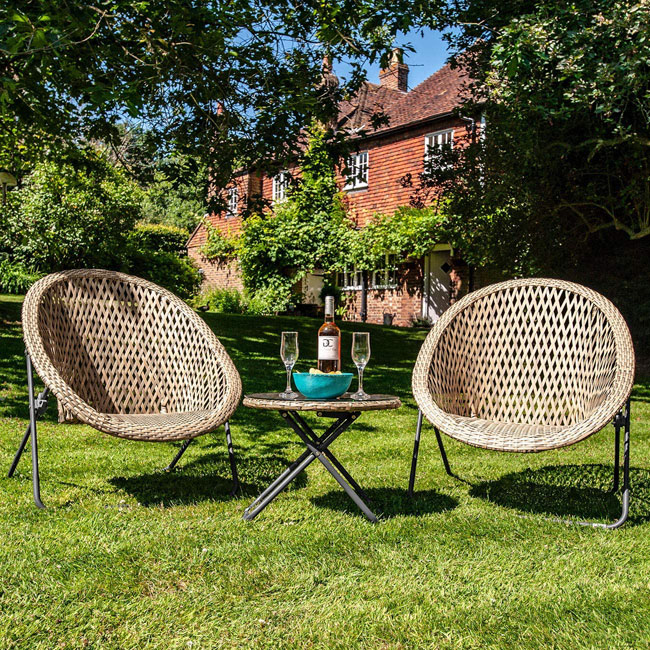 20. Retro faux rattan bistro set at Amazon
This one is on Prime, so you can have it pretty much in your garden the next day.
That's one plus. Another is the option for plain or bright colours (the natural is pictured here, but there are much brighter options). The final one is the design and its practicality.
Two foldaway chairs and a glass-topped table that's ideal for a couple of people. Weather-resistant and with a strong retro look reminiscent of something from the 1950s.
All good, as is the price of £199 for the lot.
Find out more at the Amazon website
Of course, if it were still available, I would have featured the 1960s Garden Egg Chair by Peter Ghyczy in this round-up of the best retro garden chairs. But it's only available as 'vintage' these days. If you want to know more about that, I featured one on eBay some time back.