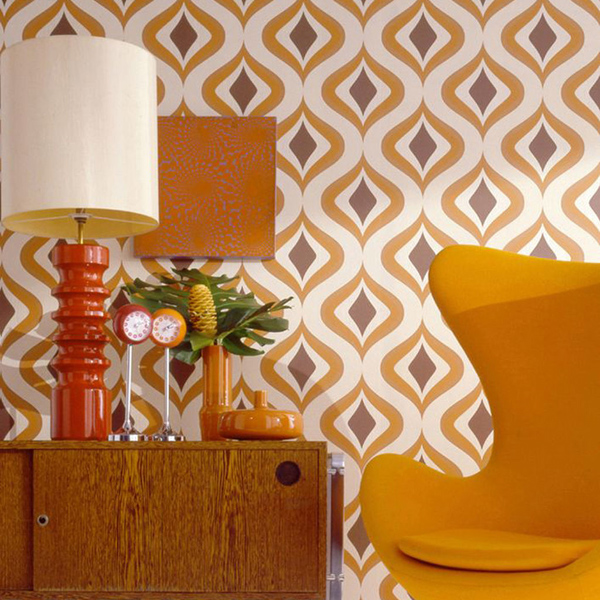 Note all articles are independently researched and written by myself. However, if you buy via one of the links it may be an affiliate and I may earn a small commission.
A New Year has started but before I kick off with the new features, let's look back with A Year Of Retro: 30 most popular posts of 2019.
It has been a good year too. The site has never been so popular despite me posting up less individual finds. Instead, I have tried to focus more on in-depth features and round-ups, updating some older features too to keep them relevant.
With that in mind, you might recognise a couple of finds in this selection of posts from last year. After updating, some features had a new lease of life, which is why they made the top 30 cut for 2019 as well as 2018.
But the majority are new pieces from this year, so do check out the list if you haven't been able to follow the site for the full 12 months. I know, it's not easy to keep track of everything.
Thanks to everyone who has read the site this year, and particular thanks to those who have commented and shared or suggested items to feature on the site. This is a one-man job, but I couldn't do it without your help and feedback.
So here we go, the top 30 of the year, listed in reverse order…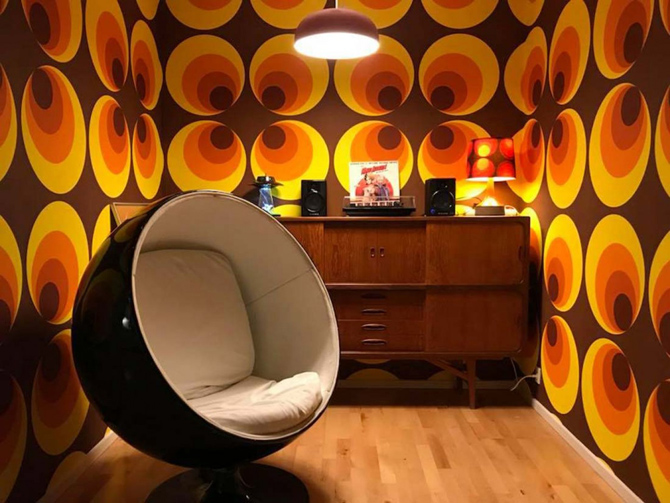 30. 10 of the best: 1970s-style wallpapers
Thinking of giving your house a New Year makeover? If the 1970s is your thing, have a read of this.
You don't need a time machine to pick up some bold wallpapers from that era. Just have a browse of this article for 10 of the best around wrought now, most easily accessible and at a reasonable price.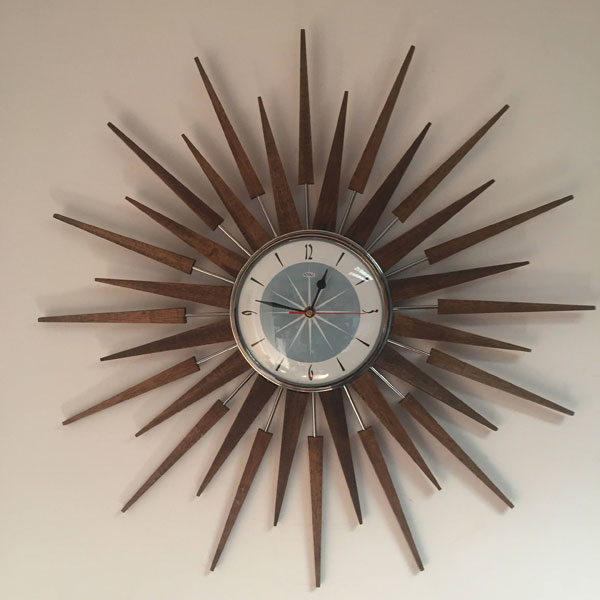 29. 10 of the best retro sunburst wall clocks
Another round-up, this time focusing on an ever-popular clock design.
A hard one to come by a few years back. M&S did one and it sold through quickly, presumably because it was the only remake around. These days there are plenty to choose from and I have picked out 10 that work in terms of design and price.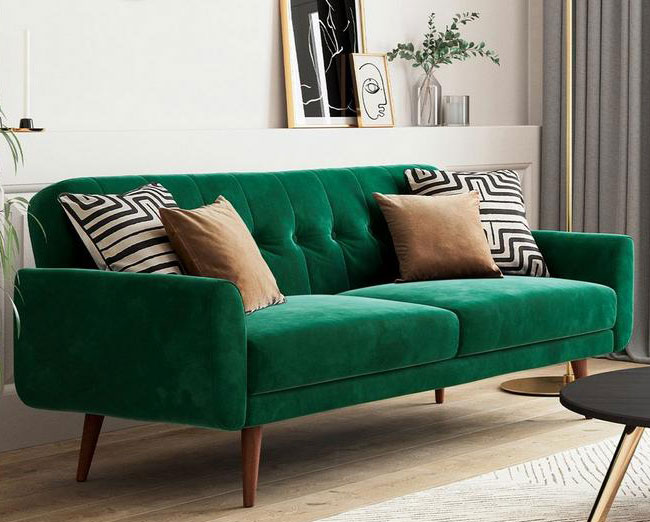 28. 10 of the best midcentury modern sofa beds
Yes, another round-up. They really are that popular. I need to do more. If you have any suggestions, do get in touch.
But back to this one, which I put together ahead of Christmas for obvious reasons. It's a time of year when people tend to stay over. But if you want one for more regular use then check out the 10 here, none of which look like a bed when not folded down. Yes, things have really moved on in recent years.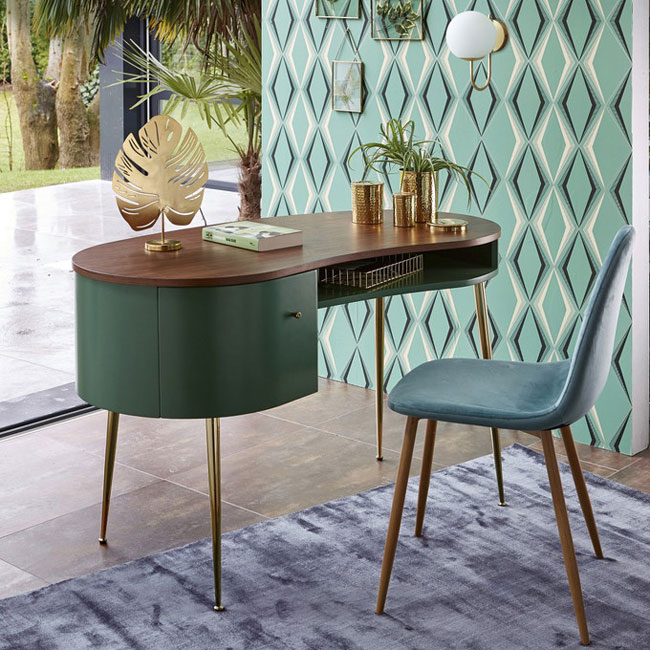 27. 10 of the best retro home office desks
I think this is the last of the top 10s for a while. But one to check out if you work from home.
A desk for your office and home are two entirely different things. The former is functional, the latter needs more style to fit into your home office, living room or bedroom. I picked out 10 retro examples that offer just that.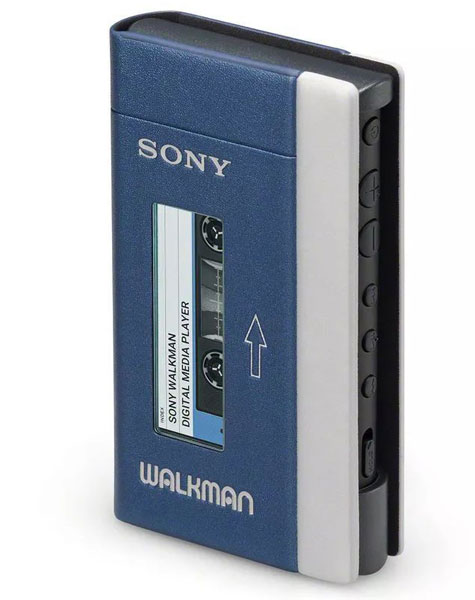 26. Sony unveils its 40th anniversary Walkman
This was a controversial one. An anniversary Walkman that didn't actually play cassettes.
It looked like the real thing, the perfect device to play all those cassettes stashed away in the attic. But the reality is that it was an Android-powered music player. Yes, looks can be deceptive.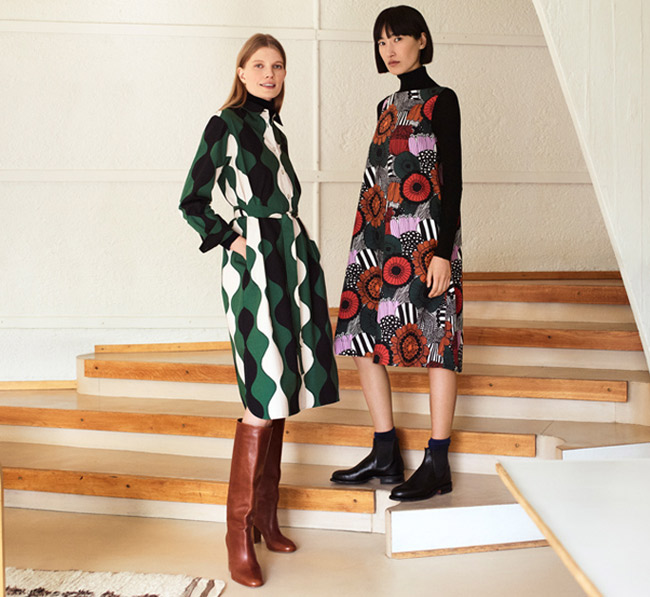 25. Uniqlo x Marimekko clothing and accessories range
If I have one resolution this year, it is to feature more retro fashion. When I do, it tends to go down well. Like this collaboration, for example.
A follow-up to an earlier range between the two, this is a marriage of retro (particularly 1970s) silhouettes and some of the stars of the Marimekko fabric design range. Eye-catching and affordable.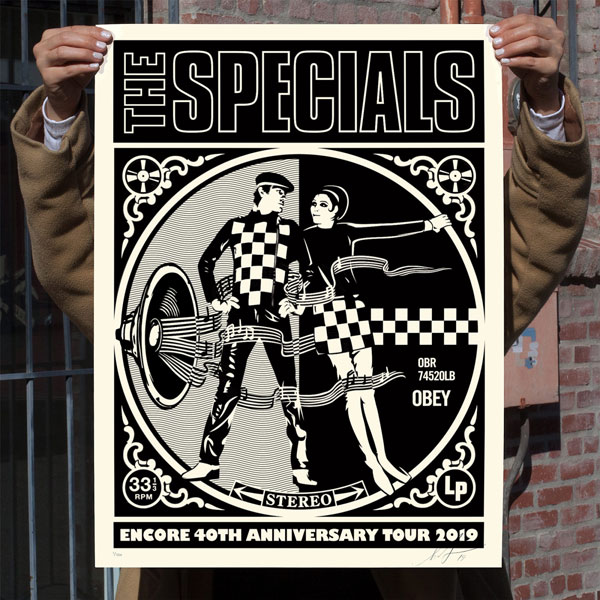 24. The Specials 40th-anniversary tour print by Shepard Fairey
Don't look for this at the seller's site as it sold out almost immediately. But you might find it on eBay if you really want one.
Shepard Fairey's distinctive style is used as a tribute to the Two Tome pioneers and the Twp Tone movement in general. It would look amazing in a frame, especially if you have a soft spot for the music.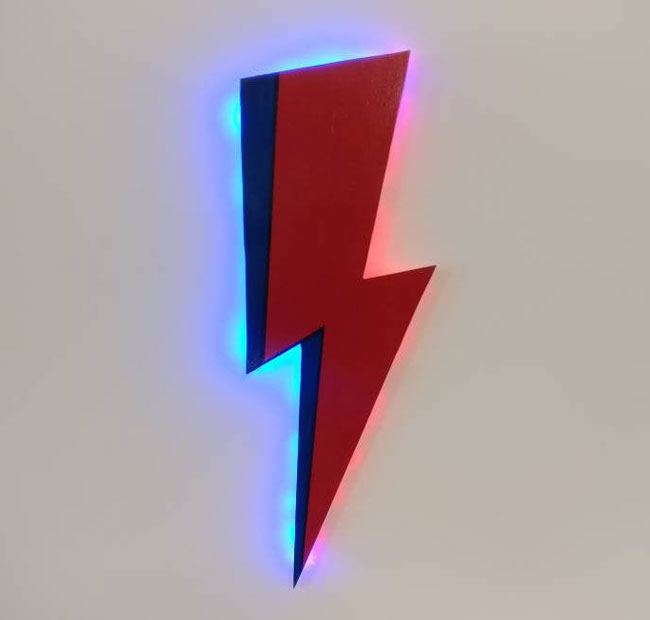 23. 20 David Bowie-inspired home and lifestyle designs
So many David Bowie-related designs out there right now. With that in mind, I decided to pull together 20 of the best.
Whether that's curtains or cat beds, dolls or mirrors. All of that and much more here if you fancy turning your home into a Bowie shrine.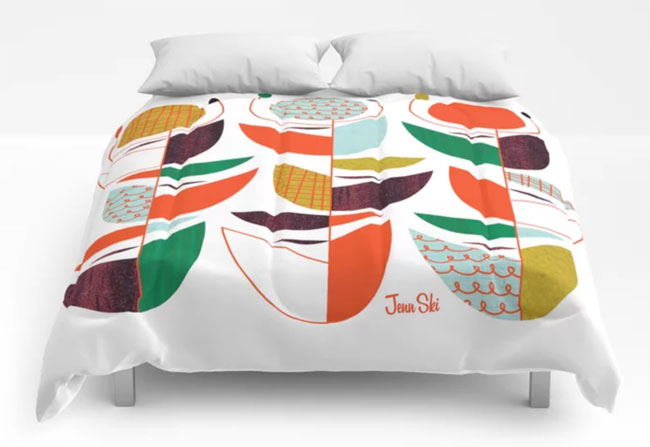 22. Bold midcentury modern duvet covers by Jenn Ski
I have featured the work of Jenn Ski on the site for many years, purely because I'm a big fan of it. But these duvet covers are recent additions to the range.
Bright, bold and perfect for a midcentury modern bedroom, Or just a room that needs some brightening up.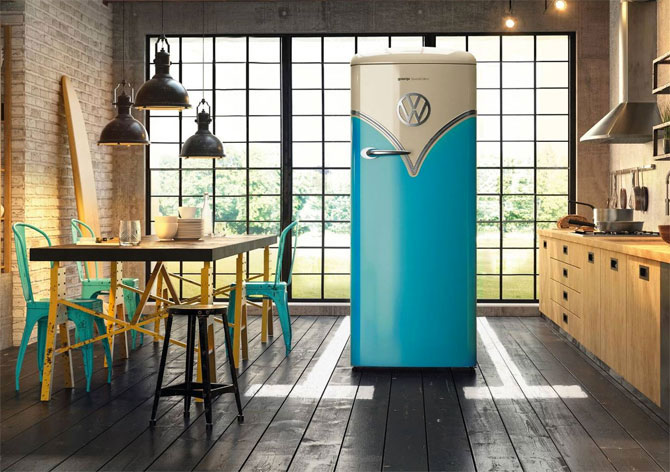 21. Kitchen cool: Five super-stylish retro fridges
Fridges are boring, functional things aren't they? Well, they don't have to be.
If the white or grey box isn't doing it for you then check out these five retro gems. A focal point of any kitchen, not something you want to hide away in a corner.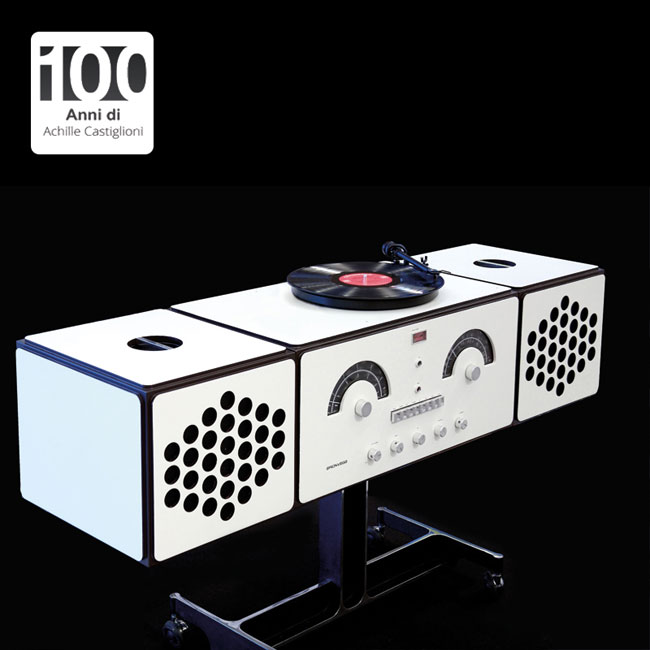 20. 10 of the best midcentury modern audio systems
This is actually an old article, but this year I rewrote it completely. Hence why it has made an appearance in this rundown.
Rewrote for obvious reasons. These things come and go, so the original one was no longer up to date. But it is now, so if you want a music system to match your retro interior, check these out.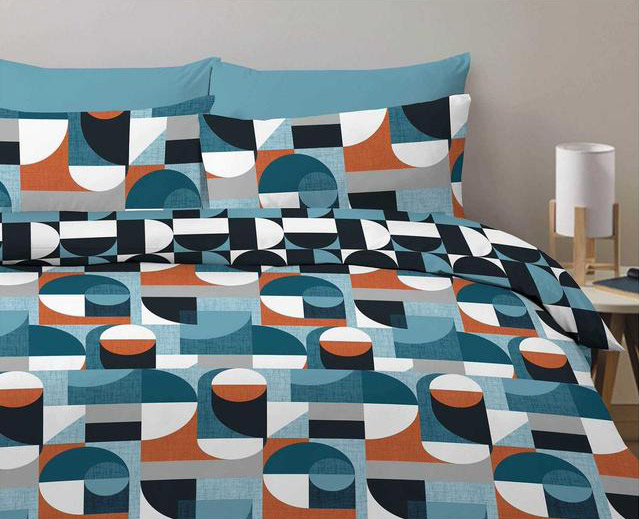 19. Century Studio retro home range at Morrisons Home
Morrison doing a midcentury modern range? Yes, that is the case and as you would expect, it's a cheap one too.
The duvet covers are the headline for me, but the cushions and accessories are well worth checking out too. Hopefully, this is a range that will grow over time.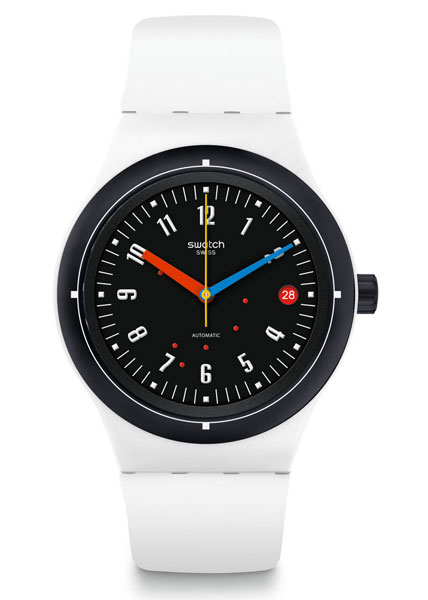 18. Bau range of Bauhaus-inspired Swatch watches
A Swatch itself is a retro item. Throw in the Bauhaus movement and we're really talking.
Designed for the Bauhaus 100th anniversary, this is a group of watch designs that use both the colour and style of Bauhaus without the watches being dominated by it. A great option for design lovers.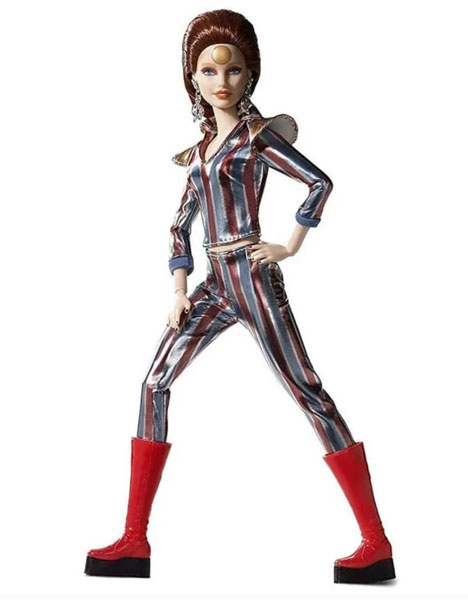 17. Limited edition David Bowie Barbie Doll by Mattel
The post that got me more abusive comments and emails than anything I have written this year or the previous two years too.
The problem is that some people didn't quite grasp the concept. This is a Barbie inspired by David Bowie. So no, it doesn't have Bowie's face because it is still Barbie. Regardless of the criticism, the doll itself was still hugely popular.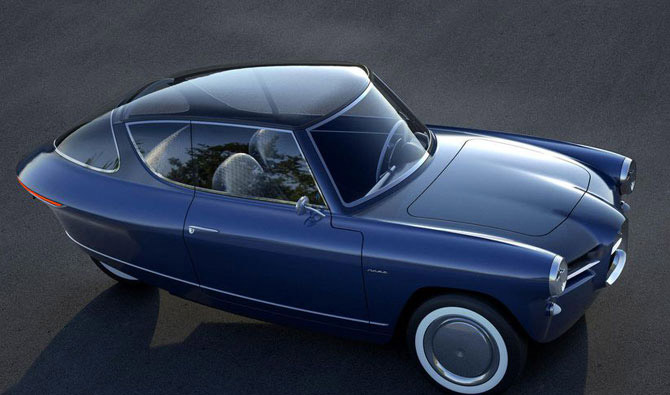 16. Rechargeable rides: 10 super-cool retro electric cars
Another article I expanded and updated this year. Because electric cars are quite a thing these days.
So are retro electric cars too, which is why I had to extend the original article. If you want a vintage or retro look but also have one eye on the environment, have a look at these.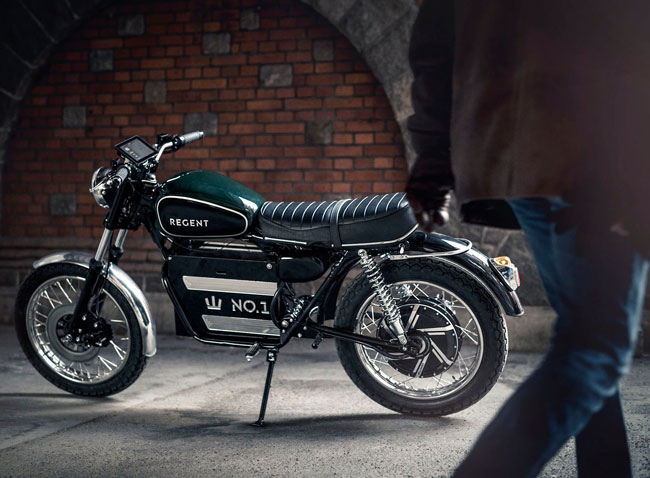 15. 1960s-style Regent No. 1 electric motorcycle by Regent
Not just electric cars. Two-wheeled transport is also getting electric power too.
This one is an absolute beauty. Styled like a vintage cafe racer, this uses cleaner electric power but is still able to hit a top speed of 75mph. Not as fast as some traditional bikes, but not bad for everyday riding.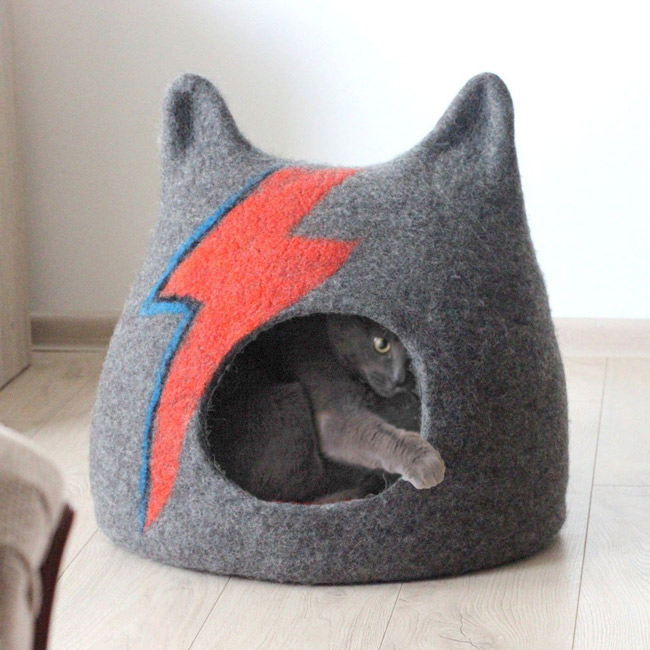 14. Bowie-inspired Ziggy Stardust Cat Cave
I know I did the round-up earlier, but this Bowie Cat Cave made the list in its own right.
What can I say? It's shaped like a cat's head, has the Bowie 'lightning' and…well, that's it really. If you love cats and Bowie, this is likely to be aimed at you.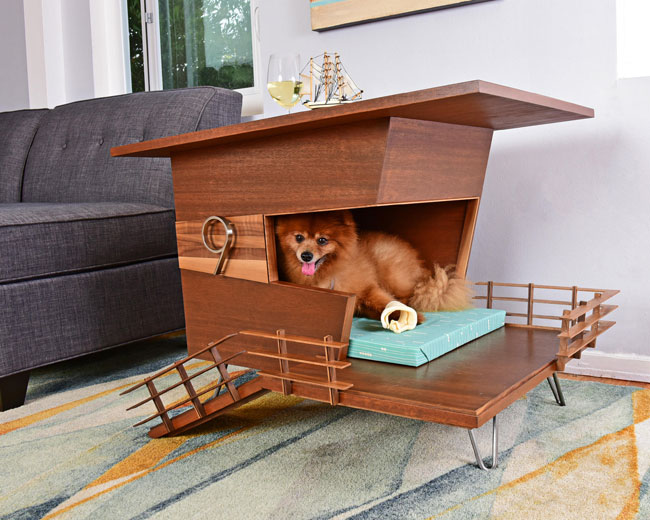 13. Midcentury modern dog houses by Pijuan Design
From cats to dogs. Although this would work for a cat too.
Replicas of midcentury modern houses in small and large sizes for small and large pets. Some real detail in these designs too and each one is handmade, so don't expect cheap.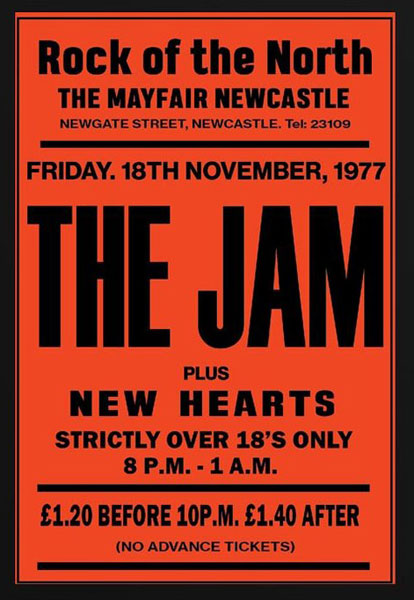 12. 1960s and 1970s replica gig posters by Bad Moon Prints
Quite assuming, but very authentic. That's the appeal of these posters.
These are original posters which advertised some classic shows of the day, reprinted by people who actually worked these shows and collected the original posters after. Affordable replicas that would pass for the real thing.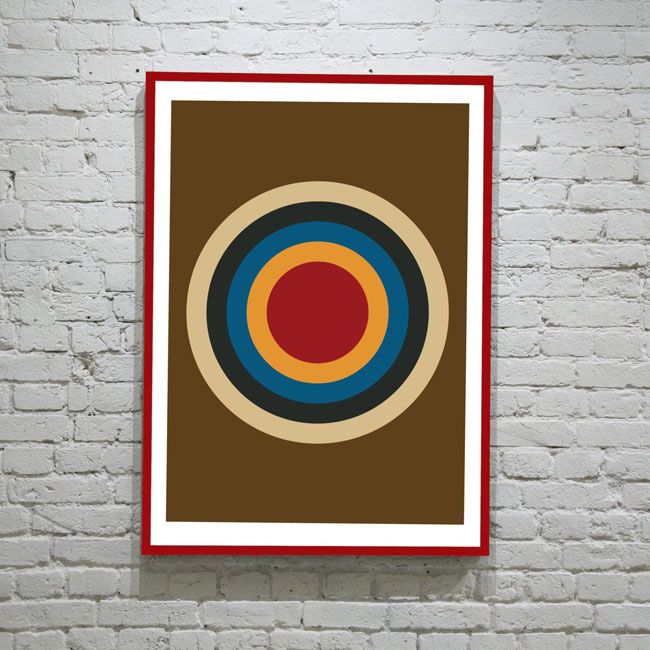 11. Mad Men-style: Deltanova retro-style prints at Etsy
The man who designed the artwork for the Mad Men TV series is selling his art via Etsy – and without a big price tag.
You can buy that and similar artwork right now, with each one handmade and inspired by a bygone era. Have a browse, each one is wonderful and as a bonus, affordable too.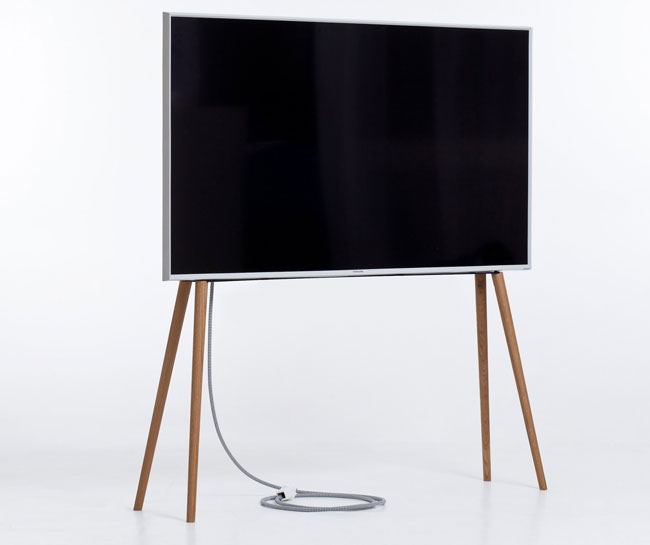 10. Handmade midcentury-style TV stands by JALG
Of course, there are plenty of TV stands to buy, including a number of retro designs (see the site for those). But if minimalism is your thing, check out this offering.
Skinny, wooden tapered legs and a bracket to turn your modern-day flatscreen TV into something more in keeping with your retro interior. That pretty much sums it up. Love this one. Very clever.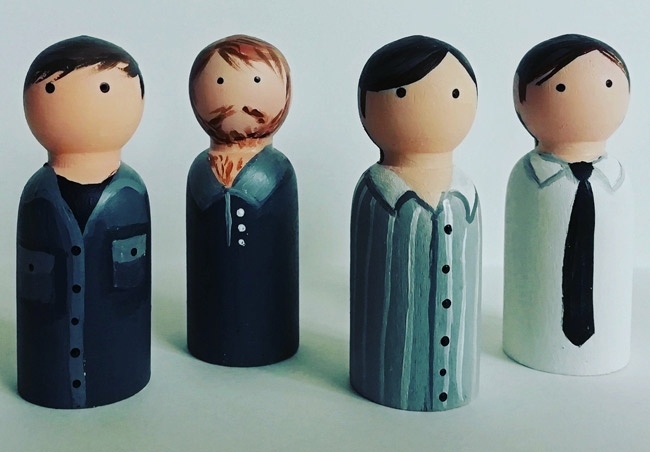 9. Handmade rock and indie Christmas decorations by Florence and Belle
A little late for the Christmas tree, but you can also get these decorations for use around the home or even as keyrings. Alternatively, put them away for next Christmas.
They are really cute. Hand-painted little people based on cult and classic bands and singers. Yes, that is Joy Division there. Hugely popular in the run-up to Christmas. You can see why it made the top 10 in A Year Of Retro: 30 most popular posts of 2019.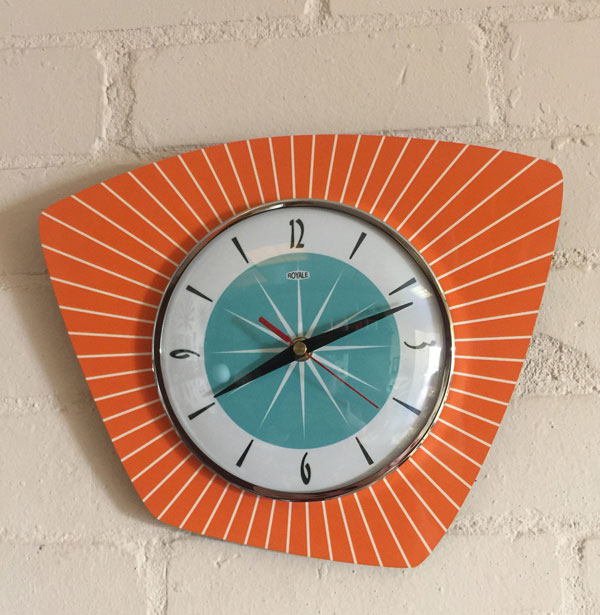 8. Authentic midcentury modern clocks by Royale Enamel
You might have noticed a sunburst clock from the maker higher up the page. That's just part of a much-loved range,
These amazing clock designs are based on original 1950s and 1960s designs, with each one handmade in a studio in Lincolnshire. I can tell you from personal experience that they look even better 'in the flesh' than they do on the page. A stunning range.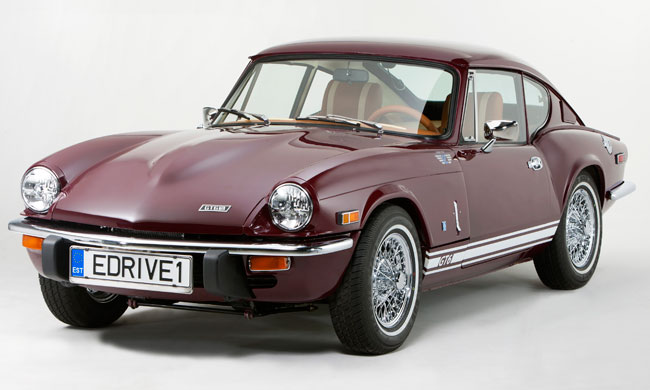 7. Green motoring: Electric classic cars at Retro-EV
I featured some retro electric cars earlier, but Retro-EV goes down the vintage route. To great effect.
These are actually vintage classics, restored to pretty much showroom standard and with updated the inner workings from the old petrol engine to something with electric power. A perfect marriage, but the finished cars don't come cheap.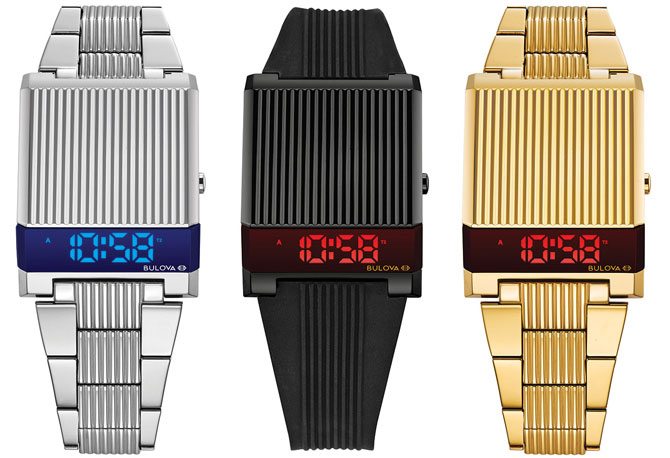 6. 1970s Bulova Computron LED watch back on the shelves
I didn't expect this to return. A 1970s space-age classic tweaked for the modern era.
It does keep the look though, which is the most important thing. Love the gold-plated version in particular. Just out and priced from £199 if you want one on your wrist.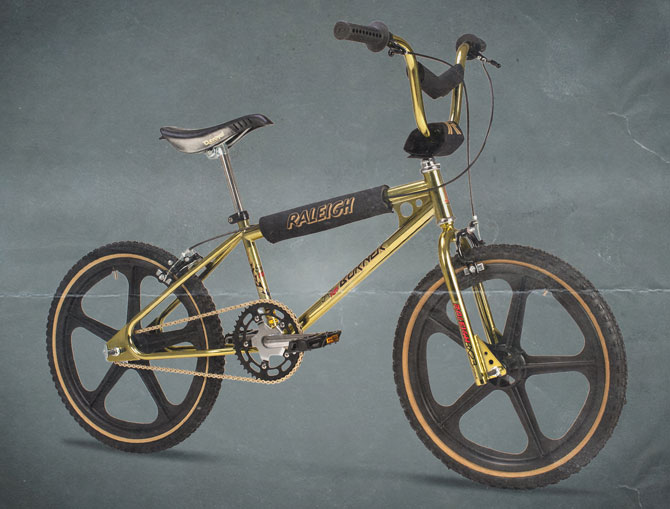 5. 1980s MK1 Raleigh Super Tuff Burner bike back as a limited edition
Kids of an era loved this for their adult life.
No surprise really as this was once a massively sought-after bike and the dream was wannabe BMX-ers. Back out now, you can treat yourself if no one is willing to treat you.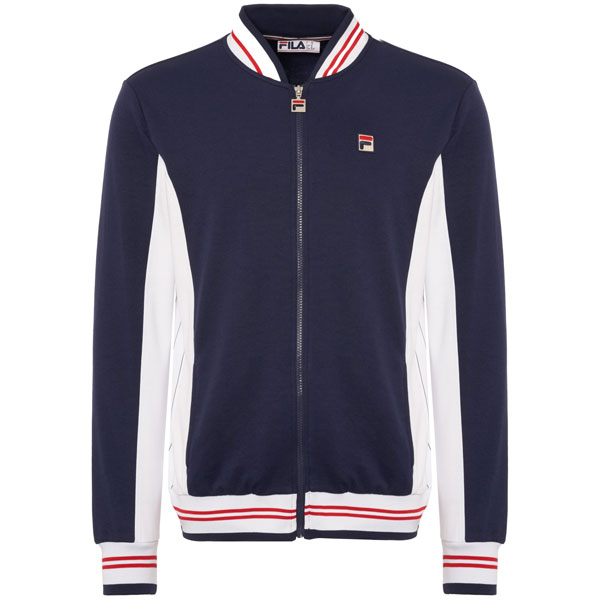 4. Vintage sportswear: 10 of the best retro track tops
If you love vintage-style sportswear, you need to check this one out.
10 of my favourite track tops available right now, all classics and all offering a timeless look whether you are getting sporty or not.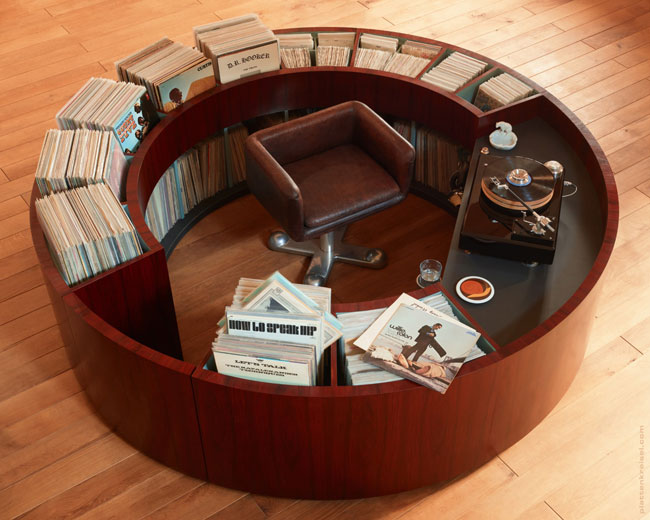 3. Top 20 retro record and vinyl storage units
Another one that I massively extended and updated just over a month back. It went down rather well. Well enough to make slot three in A Year Of Retro: 30 most popular posts of 2019.
No surprise really. Vinyl is big news and if you have a lot of it, you might want somewhere to store it. Ideally using something with more than a little style. 20 options here to help you do just that.
2. Budget audio: Retro Reka DAB radios at Aldi
Aldi brought back its DAB radios this year and yes, they were pretty popular.
A cool retro look (not unlike one of the big-name competitors) some suitably vintage colours and as you would expect, a price tag that's easy on your debit card. Aldi is always worth keeping an eye on.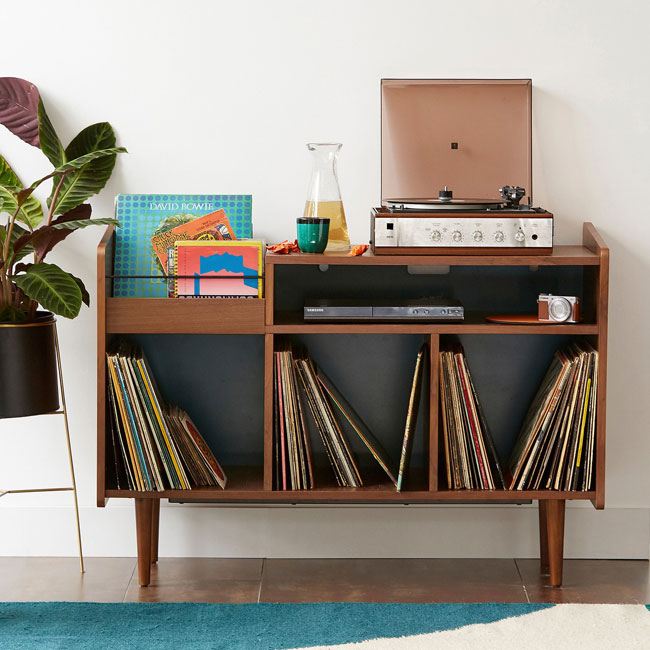 1. Ronda 1960s-style vinyl cabinet at La Redoute
Heading up A Year Of Retro: 30 most popular posts of 2019 is a design that made the lower end of the rundown last year. But it came back this year and really took off.
The only problem with this vinyl storage unit is that it sells out regularly. The plus side is that La Redoute gets it back in pretty sharpish. It knows how popular this is and does its best keep it on the shelves. So if it isn't there, keep checking back.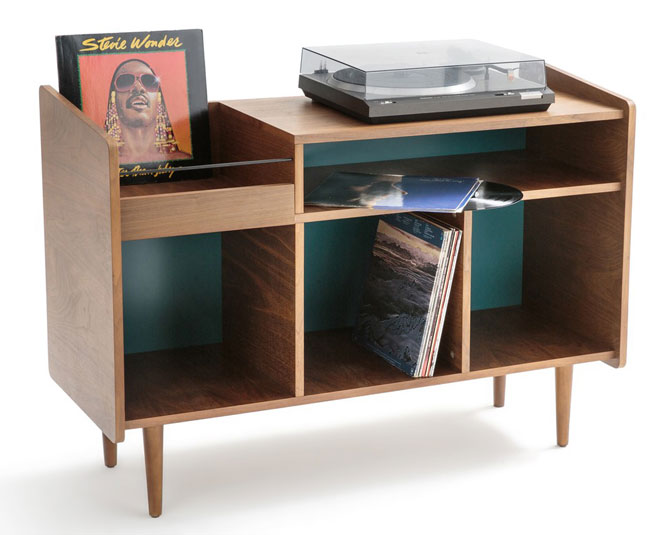 A 1960s-inspired design and part of a wider Ronda range of furniture, it has space for your records, your deck and a few other things too. Looking good doesn't do it any harm either.
That's it. Another year has gone. But don't worry, I'll be back with a new bunch of finds in the coming days.